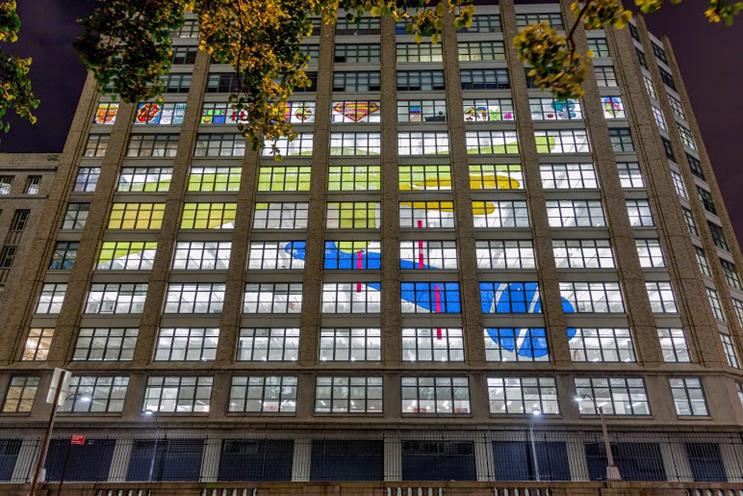 Havas Village has declared victory in the great ad agency Post-it war of 2016.
The agency that started the paper massacre against its neighbors last week on Canal Street has fired its final shot, replacing all of its Post-it war creations with a single, colossal symbol of triumph — Post-its forming a "mic drop" that covers the entire façade of its Canal Street building.
The team worked late Monday night to create a giant yellow, cartoony hand dropping a blue mic across all seven floors of windows. The creatives began work on the design at the end of the business day, and finally left the building after 11:30 p.m.The final design consists of about 6,000 Post-its.
Havas Village New York President Laura Maness says that the design harkens back to old times. "What made Canal Notes special was that it was completely analog," she said, "it brought us back to simple communications even in today's overly digital world. Given that, we wanted to bring it back to where it started - with a simple Post-It message and design."
Directly above the hand is a row of windows containing Post-it art left over from last week, perhaps a reminder of the damage done. The Superman symbol, Squidward, a David Bowie tribute and the BB-8 droid from 'Star Wars,' survived last night.
This could be the end of the 2016 Post-it war. But Maness did leave the battleground with one challenge. "We'll see what our neighbors can pull off," she said. But because the building across the street from Havas contains several agencies, it may be more challenging for them to pull of a single, multi-floor design.
Putting the competition aside, Maness says the Post-it wars not only brought together employees, it has been "a channel to showcase our collaborative spirit and unmatched creativity."