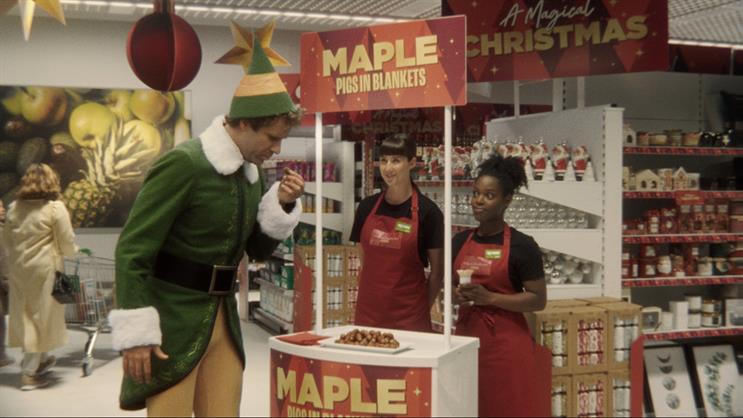 Asda takes pride in being the people's supermarket. And it was being in lockstep with the people at a time of looming economic crisis that made its heart-warming, entertaining and - ultimately - optimistic "Have your Elf a Merry Christmas" ad top of the festive TV spots. The commercial was voted the Thinkboxes winner for November/December.

Asda has always been "on the side of the customer," Stephi Brett-Lee, senior director of Asda Brand Communications explains. "We started to feel the economic situation bite quite early on in the year, and we began implementing a range of initiatives to help people."

"Despite the crisis, we discovered our customers were not going to compromise when it came to their family's enjoyment of Christmas - but showing tables stacked with opulent food felt at odds with what was going on. However, we knew people were looking for a bit of joy, so we briefed Havas to give them some."

And it was "a bit of a no-brainer", she adds, that the channel of choice for delivering that joy was TV.

"TV plays a huge role in our comms plan," Brett-Lee says. "While the comms landscape has changed over the past few years, there is nothing more joyous than people discussing what they collectively saw on the telly last night – just look at the success of Gogglebox.

"Christmas is when TV really comes into its own. We wanted to be part of that."

It was "a dream brief", says Havas London chief creative officer Vicki Maguire.

"From the off, we decided to 'do, not show'," she recalls. "I remember sitting with the teams playing a game of 'if your brand was a person, who would they be?'. For Asda, the answer was Buddy the Elf. He's optimistic, loves Christmas, spreads cheer… and he's green!"

Question was, could they get him?

"We knew the team around Elf were very protective of the property, and rightly so. In all honesty, we thought we'd only got an outside chance of pulling it off," Maguire readily admits.

"We worked with Talent Republic and Born Licensing to present the idea to Will Ferrell and the team at Warner Bros. And thankfully, as soon as they saw our vision, Will and the team were reassured their giant green baby was in good hands and gave us the go-ahead."

The idea was to feature Buddy the Elf, as played by Will Ferrell, by using clips from the original, well-loved Elf movie, along with iconic lines from the film reprised and newly filmed footage. Set to the track Santa Claus is Coming to Town, the story would follow Buddy's arrival at Asda to help in the busy run up to Christmas and how, despite being full of festive cheer, his enthusiasm risked getting him into trouble.
For Rob Greaves and Sam Daly, associate creative directors at Havas London, having an idea come back from Ferrell – one of the funniest people in the world – and his team with the comment "Yes, that's funny" was "the best feeling ever".

Bringing the idea to life was not without its further challenges, however.

"Taking scenes from the original film – not deep-faking Buddy, using a body double, or putting words in his mouth – seemed like a good idea on paper. Putting it into practice was something else," Maguire says.

"Transposing action or a piece of dialogue that took place on the New York streets almost 20 years ago into an Asda in Leeds in 2022 was not easy."

Luckily, the team had more than a little help from top director Danny Kleinman.

"We knew that Danny Kleinman and the team at Framestore would geek out on the challenge, and they didn't disappoint!" says Havas London executive creative director Dan Cole.

"We remember seeing the first previz and heaving a great sigh of relief – yes, it was going to work!" Havas London executive creative director Andy Garnett adds. "From there, it was a real collaborative effort, with Will and his team, Warner Bros and original director Jon Favreau kept in the loop at all times."

Brett-Lee notes that attention to detail in the honouring of the original movie was critical throughout: "Every detail had to be on point. We're dealing with the nation's favourite Christmas film – and mine! We even hid little 'Easter eggs' in the ad for the Elf superfans to spot, which we turned into a festive competition."

Asda launched "Have your Elf a Merry Christmas" relatively early, on 4 November. TV was the main channel, but it took Buddy into other areas too, including social, print, out of home, its in-store Asda Radio … and giant Elf hats on some of its larger stores.

And the ad quickly proved a people's hit.

"We have been overwhelmed by the outpouring of love for our new Asda colleague," says Havas London head of strategy Britt Iversen. "But I think that's also due to the direction Asda and the team took this year – bringing a bit of light relief rather than simply telling its audience 'We know times are hard'."

Aside from recruiting help from the best-loved of elves, everyone involved cites collaboration as their top tip for getting a great idea from script to screen. "All hold hands together!"

Second in the November/December Thinkboxes was "A Christmas Love Story" by Adam & Eve/DDB for The National Lottery. "The Beginner" by A&E/DDB for John Lewis was third. Also shortlisted were "Joy for All" by The Pharm/VMLY&R for Boots and "Christmas Nailed" by Widen+Kennedy London for TK Maxx.
WINNING AD
Agency: Havas London
Creatives: Vicki Maguire, Dan Cole, Andy Garnett, Rob Greaves, Sam Daly
Client: Stephi Brett-Lee, Rebecca Holmes, Claire Ibbotson, Amy Kennedy
Production company: Rattling Stick
Director: Danny Kleinman
The Thinkboxes, in association with Campaign, are the only bi-monthly awards that celebrate the UK's world-beating TV ad creativity, in all its forms. They are judged by the Thinkbox Academy – advertising and marketing luminaries who have been involved in award-winning creative work for TV.
Want to see more great work? Head to the Thinkboxes hub
Thinkbox is the marketing body for commercial TV in the UK, in all its forms. Its shareholders are Channel 4, ITV, Sky Media and UKTV. Thinkbox works with the marketing community with a single ambition: to help advertisers get the best out of today's TV.