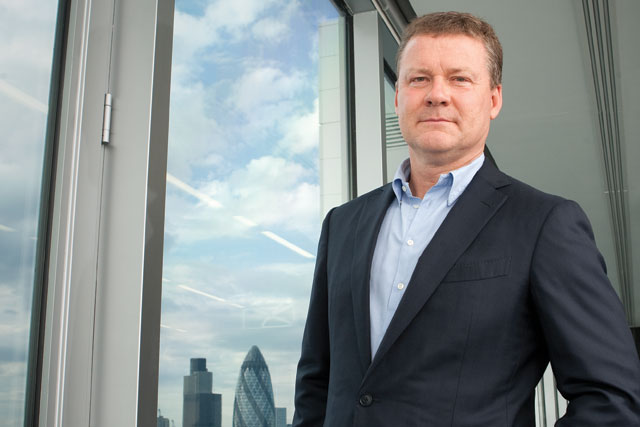 The fact that a security guard wearing a discreet earpiece provides an escort to the tenth-floor management suite of News International's Wapping headquarters at 3 Thomas More Square, a building that has become such a familiar sight for all the wrong reasons, suggests that this isn't going to be a usual Headliner.
And when Paul Hayes, the company's commercial managing director, puts a recording device on the table (some comfort, I suppose, that the recording is not covert), this suspicion is confirmed.
Hayes is perfectly entitled to do this, of course. But his polite claim that the recording is purely because he is speaking at the Haymarket BrandMAX conference, so he'll be able to get an idea of what sort of questions he's likely to be asked, sounds unconvincing. It also later emerges that my accompanying security detail has become protocol, given concerns that journalists will break into the building in an attempt to uncover more incriminating evidence on the on-going phone-hacking scandal.
So all credit, then, to Hayes for granting an interview under the circumstances. And while it's clear that he'd rather discuss the recent restructure and reconfiguration of the NI commercial department, he's willing to talk about one of the biggest, and most disturbing, stories to have ever hit the media industry. This, lest we forget, claimed the scalp of NI's chief executive, Rebekah Brooks, just one desk away from Hayes, and resulted in the closure of News of the World, widespread moral outrage and commercial damage to the organisation that is not yet fully known.
For Hayes, tasked with maximising advertising revenue from a portfolio of brands, one of which was famously described as "toxic", it must have been a particularly difficult time. "During the period in which we were never far from the news agenda, clients were very supportive," Hayes, looking only slightly uncomfortable and toeing what sounds like a crafted media line, claims.
It also seems at odds with the flurry of advertisers that very publicly pulled their advertising from News of the World, with Renault threatening to withdraw from NI completely, and rumours that it responded by telling agencies that any incidents of clients publicly denouncing News of the World would be viewed as "an act of hostility" - although this is something that Hayes denies emphatically.
He does concede, however, that some advertisers expressed "caution", but adds that not a single advertiser has pulled out of NI titles entirely, and that any threat of contagion to other titles has not materialised. "We have very robustly responded to accusations around The Sun and The Sunday Times," he says. "There has been no fallout." He is keen to emphasise another apparent priority - finding jobs for News of the World staff made redundant by its closure.
Conversations with advertisers and clients, he says, have focused on when NI will launch the proposed Sunday Sun - particularly important to Hayes given that the company no longer has a mass-market presence on a key retail day and that agencies will want to redeploy this money and not necessarily to the weekday Sun. So when will the launch happen?
"It's a question of what would be appropriate," Hayes says. "In the middle of the (phone-hacking) storm, we thought about it but the new CEO (Tom Mockridge) put a stop on it. He calmed everyone down."
Mockridge isn't in the office today - he's moving his family over from Italy and the chief executive's desk is empty, just as Brooks left it. So was Hayes friends with Brooks? Did he, a boy from a South London council estate, join the Chipping Norton set? And was he shocked to see her go? He considers his answer: "Rebekah and I worked together for a long time." This is followed by a lengthy pause before he eventually comes to the latter part of the question: "It's not fair for me to comment on that."
Hayes is good (and likeable) - he rarely deviates from the company line, perhaps explaining why he has been a trusted NI lieutenant for so long and was widely expected to lead a combined NI/Sky sales operation before the merger was put on ice. But he says that while he didn't go for the top NI job, he didn't have time even if he'd wanted to.
And so on to the restructure. Hayes warms up. While the timing of the announcement - mid-investigation - has raised eyebrows, Hayes says that it is the culmination of a project that he has been working on since December (the reorganisation was due to be unveiled on 5 July but was delayed because of the news on 4 July that Milly Dowler's phone had been hacked).
The restructure could have huge ramifications for the rest of the newspaper industry, as it involves increased automation and reducing the distinction between the print and digital products. "The newspaper trading system is anachronistic. It's difficult and people-intensive," Hayes says.
Hayes wants to make it simpler for agencies to do business with NI (which will also reduce the headcount), with one person - the commercial director, Dominic Carter - responsible for advertising income, rather than the previous siloed platform approach. He says that there were too many entry points for agencies previously.
NI is also spending £3 million on new trading and booking systems that, if successful, should free the sales team to sell rather than administer bookings. It's a bold move and one that Hayes claims mirrors the way that TV is traded, which is interesting given that News Corp's Sky bid is on hold but not aborted.
So has he still got one eye on the Sky train set too? "Not yet," Hayes laughs, but then this - as with so many other things at the company - may be dependent on whether NI can successfully extricate itself from of a mess of its own making.
THE RISE OF DOMINIC CARTER
When, in November 2005, Dominic Carter revealed he was leaving Mirror Group Newspapers to return to Wapping, it was seen in many quarters as a devastatingly good bit of business on News International's part. Carter was coming home.
After nearly a decade at NI, he'd upped and left in 2000 to become the head of client services at MGN.
He joined at a turbulent time, with MGN pursuing on-off talks with Telegraph Newspapers about merging their sales operations. However, he rose steadily before becoming the director of advertising in 2005.
He was seen very much as the future at MGN but was only in the job for months before deciding that, all things considered, he'd rather be a slightly smaller fish in NI's far bigger pond. In November 2005, he accepted an offer to become the trading director on The Times and The Sunday Times - a role that was soon expanded (in May 2007) to embrace all commercial activity across Times Media.
It wasn't long before he found himself at loggerheads with buyers as he sought to increase yield by more than 15 per cent - and some agencies pulled money out of The Times in protest.
But, arguably, his most important battle was fought (and won) internally. In June 2008, NI confirmed that it was merging the sales teams on all its newspapers into one new structure - and announced that Carter was to become its trading director, reporting to the commercial managing director, Paul Hayes.
In February 2009, the new structure was tweaked when Neil Jones, formerly the managing director of Carat, was brought in to work with Carter on commercial strategy.
Last week, in yet another restructure, the number of lead commercial roles under Hayes was trimmed from seven to three - and, again, Carter was the main beneficiary, having been handed the new title of commercial director.
THE LOWDOWN
Age: 49
Lives: Wandsworth, South London
Family: Wife, Marie, and two daughters, Romy and Kezia
Hobbies: Skiing and fishing with my mate Richard and the kids on our
boat
Last book read: So Much For That by Lionel Shriver
Motto: Honesty and hard work will get you a long way