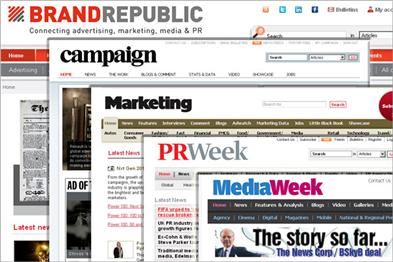 Presenting the award, host Russell Kane announced that the judges noted how Haymarket Business Media had "continued to grow the diversity and scale of its digital business," and highlighted the company's "commitment to innovation and producing high-quality products for professionals".
In 2010 there was been a determined shift in focus from commodity products to socially connected brands across the division, which also includes PR Week, Print Week and Management Today.
An AOP judge said: "A B2B business doing great things with an effective, long-term engagement strategy."
In a night of strong recognition for the publishing group, Haymarket Consumer Media won the best Product Team award for Autosport.com. BrandRepublic.com was shortlisted for Business Website of The Year, and the centralised Brand Republic Group news team was shortlisted for Business Editorial Team of the Year.
Also on the night, the 10th and biggest awards ceremony to date for the AOP, Future Digital scooped the Grand Prix as well as the consumer publisher award.
The Telegraph Media Group was the most awarded publisher, picking up the award for innovation for its 'How Should I Vote?' application, as well as awards for its digital advertising sales team, and its ad operations team, in association with AdMonsters, while the best Digital Editorial Individual was former Media Week reporter Emma Barnett, digital media editor at TMG.
Dennis Publishing won the commercial partnership award for Dennis Lifestyle Division & Tron, as well as winning the Video on Demand category, with the Dennis Publishing film unit.
Global Radio picked up two awards for use of mobile for Global Radio Android Apps in association with Sony Ericsson, and the cross-media project award for 'Mini But Mighty' with Sony Ericsson.
News international was honoured in the Launch category with The Times and Sunday Times igital subscription product.
ITV's 'Got the Cross Platform Factor' won the research award. The best ad technology platform award went to Admeld, and Magicalia won Independent Publisher of the Year.
Associated Newspapers won the award for best consumer website for Mail Online, while Centaur Media received the business website award for Marketing Week.
The awards evening was attended by 1,000 people at the Roundhouse in Camden, London.