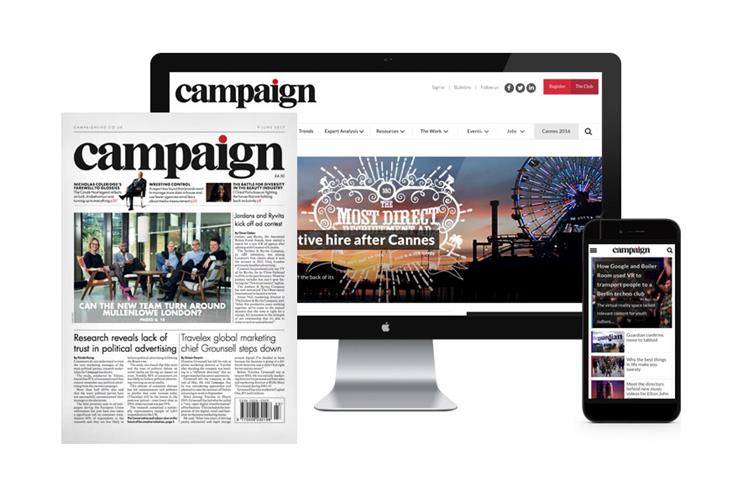 The evolution of the print magazine – which celebrates its 50th anniversary next year – is designed to enhance Campaign's digital and print package to cater to the needs of today's global creative marketers. Understanding first-hand how the media and advertising world is shifting to digital, the decision underlines Campaign's commitment to delivering news, ideas and analysis via the most relevant platforms for its audience.
The changes have been inspired by recent research that highlighted a clear desire among subscribers, readers and advertisers for the Campaign print product to be more distinct from its online offering. Preferring to get their news and updates via its dynamic digital service, they now look to the magazine for intelligent longer-form, more analytical content, extended case studies and trend reports, which are better supported by a monthly format.
The evolution of the title will also include an increased focus on the creation of video and podcast content; particularly assets that can be shared on social, contributing to the title's burgeoning digital presence. Its daily bulletins now reach almost 400,000 people a day, while Campaignlive.co.uk has 988,000 monthly unique users.
The new print concept will complement Campaign's string of successful event properties including Media 360, the Media Week Awards, the Campaign Marketing New Thinking Awards and the Creative Tech Awards. It has also launched a series of new events in 2017, including Campaign Underground and Campaign Breakfast Briefings.
The news also follows a recent refocus for Campaign US, which will see it integrated operationally much more closely with its editions in the UK and Asia, both editorially and commercially. Designed to further enhance the publications' unique and real-time insights into the trends that are shaping the industry globally, the change also offers Campaign's commercial partners greater opportunity to reach the title's global digital audience (more than 1.5m unique users per month), as well as in print and through social media.
Ahead of the new print concept launch and frequency change, there will be two print editions published in July, with a break in August while the redesign is developed by Campaign's production team and design agency Intercity Studio.
Claire Beale, Campaign's global editor-in-chief, said: "The new monthly Campaign will have intelligence, class, flair and fun and will properly complement our dynamic website, the destination for all that matters in our industry every day, social platforms and events."
Philip Swinden, managing director of Haymarket Business Media, Campaign's owner, said: "As we continue to invest in our largest markets and grow our global networks, our new vision for Campaign will seek to engage our audiences across the marketing, advertising and media communities in new and exciting ways, while actively responding to the insights we gleaned from our readership research. This is an incredibly exciting time in our evolution, so we look forward to revealing the new concept to readers in September."