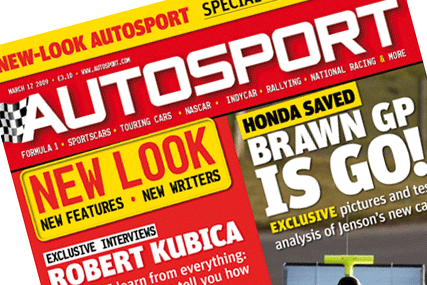 The new-look title, which goes on sale on Thursday (12 March), will feature new writers and new features, although Haymarket, which also publishes Media Week, said Autosport's focus will remain on reporting on Formula One to the British motor racing scene.
Coulthard, the former F1 driver, will be joining the writing team, while Bradley Lord, the features editor of Autosport's monthly sister title F1 Racing, will write a weekly new column.

The magazine, priced at £3, will also feature a new back section, called Final Drive, which will include a weekly guide to what's on in motorsport.

Andrew van de Burgt, the magazine's editor, said: "There is a lot of expectation on our shoulders, given Autosport's 59-year history, but we hope that the changes will make the magazine feel fresh and exciting for both new and existing readers."

According to the Audit Bureau of Circulations (ABC), the circulation of Autosport between January and December 2008 was 34,442, down 10.1% year on year.

Sister Haymarket title F1 Racing, a monthly, registered a circulation of 58,806 over the same period.