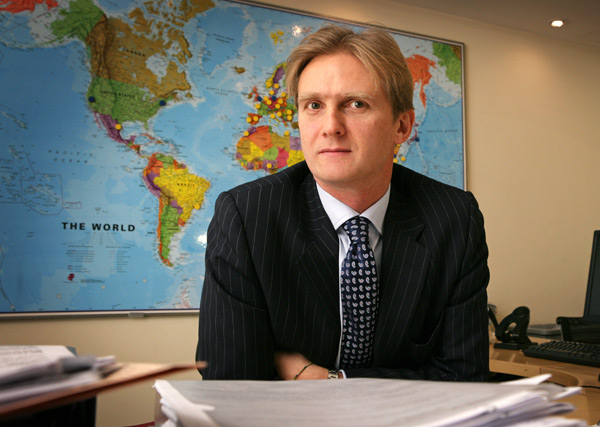 Despite serving a 20-year industry apprenticeship, 43-year-old Rupert Heseltine admits to being surprised when father Michael, Lord Heseltine, talked to him towards the end of last year about running the family firm, Haymarket Media Group.
"I wasn't expecting it when it came," he says, "I thought it might happen this year [2010] if I'm honest."
Internally his appointment caused few concerns. Having worked at ground-level across many of the company's divisions and titles since 1994, he knows the business and many of the staff, and has a reputation for being approachable, passionate and open to digital opportunities. But what of his newly acquired responsibilities?

"I think every chairman feels the weight of responsibility. I have a very strong belief that Haymarket is a family business and that it will remain so," he says.
"I also want to make sure that the contract between staff and the family is strong and that we are seen to reflect the desires of the staff, whether that be in our vision and values, or our approach to things in terms of how we do business."
Talking in his Hammersmith office, with a new management team around him and company-wide restructure in place, he appears very much the company chairman, and one who is decidedly upbeat.
"Sitting here today, we find ourselves in very good shape," he says. "We've had record years in a lot of our divisions around the world. Record years in Australia, in Hong Kong, in India and in Consumer [a division that includes What Car?, Gramophone, Stuff and What Hi-Fi?] ."
Such talk of "record" performances in only the first tentative year of recovery since the recession seems somewhat incongruous, especially for those operating in the UK, but it does provide a timely reminder about the company's global and diverse operation.
Haymarket publishes business, customer and consumer magazine brands from offices in the UK, the US, Germany, India, Hong Kong and Australia, both in print and online. It also boasts a thriving licensing business that produces titles in more than 40 territories, which are themselves credited with "a very good year".
Add to that its exhibition business, a conference and events division, a software testing facility, and carbon benchmarking company, and you have an international group with a wide revenue base.
Investment decisions can be made to offset or harness structural and cyclical changes across the brand portfolio, while acquisitions and long-term commitments in the likes of renewable energy and the environment, continue to develop the offering.

2009 hit B2B division hard
But no fleet-of-foot management could combat 2009: the year advertising fell off a cliff. According to figures filed at Companies House, group turnover dropped 17.5% to £222m and Haymarket posted only its second pre-tax loss before ordinary activities in more than a decade.
According to WPP's GroupM, adspend for consumer magazines in the UK tumbled 20%, and business to business titles a teeth-rattling 34% last year. No media company escaped unscathed, and for Haymarket it was its business titles that bore the brunt, with a number of brands either morphing into new entities or folding altogether.

Brands that went to the wall include Marketing Direct and Promotions & Incentives, while Media Week became an online-only proposition, and Revolution, a brand Heseltine helped launch some 13 years earlier, lives on as a quarterly supplement in Marketing.
The shakeout has continued this year, with the sale of AV Magazine, Independent Nurse, HR and Packaging News, but the new chairman remains resolute: "We've had our challenges. And the challenges are in the B2B sector. We had to make difficult decisions there, but I think they were the right decisions.

"I think we found good homes for the products that we divested and hopefully we found good jobs for a lot of people that went with them."
Plans by the coalition Government to slash spending by up to 50% suggest further consolidation could be a possibility within Haymarket's public sector business, but Heseltine refuses to be drawn, saying "it's an ever-evolving situation".
He adds: "You're sad to see any title go, they are all one's children. You feel emotional towards them all in some way. But, magazines and media, is an ever changing business. It's important in my position not to be too sentimental.
"That's not good for the business and it's not good for people who work in the business, because actually sometimes making difficult decisions, makes a lot of other peoples lives better."
Haymarket's own history punctuates the pace of change seen throughout the industry, having started 53 years ago with just one hardback, bound directory for students.
With brands ranging from Manchester United's magazine and F1 Racing, to Gramophone, PR Week and Management Today, Heseltine is confident about how resilient and innovative the company can be.
The last slump in the group's financials followed the dotcom crash and 9/11 terrorist attacks in 2001. The following year, Haymarket filed pre- tax profit highs of £15.2m.

He says: "I am very happy and delighted where we are at this time right now. Let's look forward, not back. We're expecting good, solid growth this year."

New ways of working
The first change in his new regime was the promotion of Kevin Costello to chief executive of Haymarket Media Group, responsible for the UK as well the Australian, German, Indian and Hong Kong subsidiaries. The move cements a working relationship that started back in the nineties when Heseltine was an ad manager on What Car? and What Hi-Fi?
"He and I have worked together for 10 to 12 years. We know each other's thinking, we know the way we believe the company should be. Haymarket is at its best when it's agile, making decisions and getting stuff done," he says.
"What I wanted to do was to reduce the management layers in order to increase the joined-upness of the organisation."
Among the new appointments this year has been the promotion of David Prasher to managing director of the consumer division. His is a company success story in itself, having joined Haymarket 18 years ago as a graduate sales trainee.
Sitting among his portfolio of Haymarket consumer stalwarts such as FourFourTwo, Autocar, What Car? and Gramophone, is the digital pure-play site PistonHeads. The site for car enthusiasts is one of the most successful passion-led websites in the country, with three million uniques and more than 350 million page impressions.
"The online space for cars has worked extremely well," says Heseltine. This is supported by What Car?'s success online too, which now hosts 1.3 million users per month. "They're both extremely profitable brands and we're delighted with them."
Does such standout success pave the way for future digital-only aspirations? Not necessarily. Looking ahead, the chairman cites "probably 10 really great opportunities" and adds "behind that, there are another 10 to 20 which one would also consider to be great opportunities".
Standalone sites are likely to be among them, but possibilities surrounding tablet devices and apps have caught his imagination too. He says: "I think the iPad is a fantastic piece of kit. I've downloaded every magazine, and Angry Birds, Cut the Rope, Photoshop... and I think it's just fantastic."
A keen amateur photographer, he credits The Guardian's Eyewitness as "one of the nicest and simplest apps out there at the moment", and believes digital magazines are set to get more sophisticated in the near future.
But his enthusiasm is tempered: "In October, Apple announced it had sold around 4m iPads, that's not a bad number but we've got to get it into perspective," he says.
"What will be interesting is a year down the line, we'll have the second generation iPad, we'll have the third generation Android, second generation of other tablets, and then we'll have a much better picture of how people are using them."
Haymarket's own foray into iPad apps is currently confined to its customer division, however it is believed to have apps for AutoCar and Stuff ready to launch in 2011, although Heseltine declines to comment.
The chairman is far from giving up on print however. Magazines are still responsible for the lions share of the business, although the web is catching up.
"I absolutely believe there is a role for print," he says. "I do believe that print offers something that digital doesn't necessarily offer, and vice-versa.
"It's all about what your audiences want and what your customers want, and matching those needs to the editorial product.
"The internet is fantastic for news, but I think that sometimes a magazine… can be a very galvanising product."
In September, Haymarket co-launched X Factor, one of the country's few weekly consumer magazine launches in the last year, through a tie-up with FremantleMedia Enterprises and Syco Entertainment.
Closely aligned to ITV's hit TV show, the jury is still out on the kind of sales it is commanding. Early ballpark figures of 200,000 were unofficially bandied around, according to media agencies, but during a series dominated by national press coverage of voting scandals and prostitute grannies, the pressure's been on to make the official magazine standout.
Heseltine has no wish to shed any further light, but does say, "I know that Simon Cowell is really pleased with it".
There are bigger question marks about the likelihood of ever launching a new magazine in the B2B space, especially in the UK. Heseltine admits the whole business will "look and feel very different" in the future. He expects more analysis and more research, and more comment and data-led content.
"It [launching magazines] is all determined by [business] market and by brand," he says. "It's very easy to generalise, and I think that's really wrong. I think you've got to look at the particular market that you operate in and make the decision based on your surroundings.
"In the horticultural market, a magazine actually works very well, because most of the guys are actually out in the field."
It's clear Haymarket's new leader is a print advocate, but he's keen to disown the label of "traditional publishing company".
"I don't know who first invented the term but I think it's very damaging", he says. "I think, we're an editorial engagement company. What we do is we use our editorial and creative skills to engage with specific vertical audiences.
"In future we need to make sure we engage at a deeper level and in a way that we can monetise it."
And what does he think about currently open sites within the portfolio, like BrandRepublic?
"It's about what the audience wants. There may well be parts of BrandRepublic that are very easy to monetise, because there is information that helps people do their jobs better that you can't get anywhere else.
"There are multiple revenue streams that surround BrandRepublic."
Like his father, Heseltine calls himself "a great believer in the opportunities that overseas presents". He has looked after Haymarket's Indian operations for a number of years and still believes there's much room for growth throughout much of Asia and possibly Latin America too.
Part of this year's agenda has been to improve collaboration internationally, encouraging the sharing of information, ideas and best practices.
"Australia just built the new website for Campaign India and Campaign Asia, running off the same CMS," he says. "There's a lot happening, but much of it is behind the scenes."
In 2010, Haymarket is set to show growth across the board, while sales will fall short of pre-recessionary highs, the company is back in black and building.
Heseltine concludes: "I think we've achieved things. I'll give ourselves seven and half, eight out of 10 this year. It'll get harder next year to score a similar score, but it always does when you've done most of the work."
Heseltine on…
The recession – I think people believed they had more time. The recession in my mind has accelerated what we knew was going to happen, probably by a factor of two to two and a half years.
Government cuts – Let's hope they've got it right, because we need them to be right. I think we probably did have to stand up and say we're going to make some really difficult and uncomfortable decisions. It'd be fantastic to think that at some point the Government can say ok, we're on track.
Sale of BBC Magazines – We've been a partner for the BBC for 21 years. For someone, the BBC will be a fantastic opportunity. It's a fantastic brand, with fantastic products.
The Times paywall – I subscribe to The Times. I quite enjoy the experience. Do I think they've got it right? Well, the FT didn't get it right to begin with. They evolved and evolved their paywall. How much they charged and what you got. And now, so I understand they're doing exceedingly well. The Times is too big an organisation, I think, to get it wrong, and I suspect that they'll experiment and they'll keep trying, and that they'll land on a model that will work. And actually why should they give it away for free?
CV
2009 – Chairman, Haymarket Group
2005 – Deputy chairman of Haymarket Group
2004 – Deputy chairman of Haymarket Exhibitions
2001 – Director Business Development, Haymarket Group
1999 – Associate publisher, Gramophone
1998 – Part of launch team of PR Week US
1998 – PR Week UK
1997 – Part of launch team of Revolution
1996 – Part of launch team of Sky Sports Magazine
1995 – Ad manager, Wine & Spirit, Wilmington
1995 – Ad manager, What Car / What Hi-Fi? Haymarket Consumer
1994 – Haymarket Exhibitions / BBC Gardeners' World Live
1991 – Sales exec, Maxwell Communications
1989 – Sales exec, Peter Isaacson Publications, Australia
1986 – Oxford Polytechnic – Business and Finance

Born 1967
Education Oxford Polytechnic, Harrow
Family Married to Sarah, three children and a dog