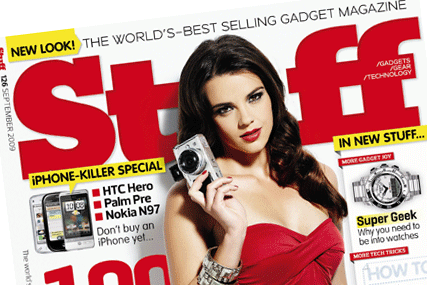 The redesign to Stuff, published by Media Week owner Haymarket, comes into effect from the September issue (on sale on August 5) and will offer more comment and product reviews.

Fraser MacDonald, Stuff editor, said: "People weren't asking for us to cover bargain-basement gear. In fact, they wanted deeper knowledge of our hero products such as the iPhone and PS3, including how to make more of them and what's in store for the next generation of those products."

The title, for which the cover price will remain at £3.99, competes primarily against Future's T3.

Condé Nast, which launched technology title Wired in the UK this year, is more of a concern in terms of competing for advertising than circulation, according to the outgoing brand director of Stuff, Tom Dunmore.

Dunmore leaves his role this week and Haymarket Consumer Media strategy and planning director, Bob McDowell, will take interim control of the publishing duties. Dunmore will continue to contribute to the magazine.

According to its latest Audit Bureau of Circulations figure, Stuff enjoyed the biggest leap in circulation across the men's lifestyle sector.

Between July and December 2008, the title's circulation increased 7.9% to 95,072, ahead of T3, which had a circulation of 60,127.