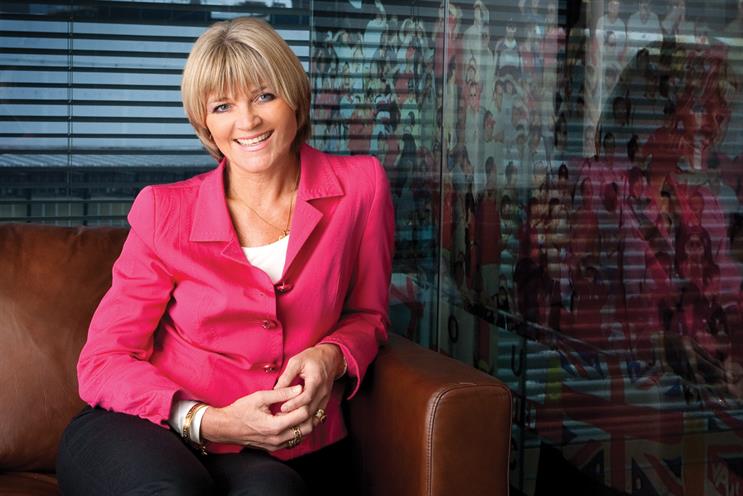 Passionate, compelling and endearingly off-the-wall, if you could bottle Fru Hazlitt, you would have something quite potent. Needless to say, the bottle would have to be suitably bright (fuchsia, probably) and be branded "Fantastic" or "Marvellous" – two of her favoured adjectives. Just make sure it's sold via television.

Except of course, the managing director of commercial and online at ITV is actually quite boring – as are most other people – at least according to her. She reiterated this belief only last week, in an attempt to underline how the threat of amateur user-generated content to quality producers such as ITV has been vastly overhyped.

It's a typical ballsy statement from the woman dubbed "The Queen of Television," by Thinkbox' executive chair, Tess Alps, but is loaded in its simplicity. During a time when global technology giants are empowering millions to create and share their own content, and when a conference is not complete without someone declaring the death of the 30-second spot, Hazlitt wants to remind everyone exactly what ITV brings to the party.

"I always say to people you should think about a company as outsiders think of it," she states. "It's very easy to get caught up in all the bull. And, actually, what people would kill for is to create, produce and own their own content and to have this astonishing shop window that makes people famous."

It has been more than two-and-a-half years since Hazlitt joined ITV, yet this is her first scheduled press interview. Her reasoning is she wanted to be able to demonstrate change, not just talk about it.

Hazlitt was not the obvious choice to run ITV's commercial team after Rupert Howell exited in July 2010. She had been out of corporate life for two years following a dramatic stint as chief executive of GCap Media. It had ended when attempts by the management to buy some of its radio stations failed, and she settled for a £1 million payoff instead when the company was sold to Ashley Tabor's Global Radio.

Despite 20 years in the media business, including other leadership roles at Virgin Radio and Yahoo!, she had no previous TV experience. She now wryly admits her appointment had been "slightly unexpected".


'When appointed, I got 734 e-mails in 24 hours. Some were telling me I was insane, because ITV was a mess'
She joined at a difficult time for the UK's biggest broadcaster, which had been battered by a retracting ad market and humiliated by a drawn-out recruitment process for both the chairman and chief executive roles, during which favoured candidates had publicly withdrawn.

She recalls: "When they announced my appointment, I got 734 e-mails in 24 hours. Some were saying 'Great, we love ITV' and were very nice. Some wanted to tell me what I needed to do to fix ITV and others were telling me I was insane, because it was a mess at that time."

This willingness to call it like she sees it has long been a personal trait. Kathleen Saxton, founder of headhunters The Lighthouse Company, worked with Hazlitt during her Virgin Radio days, and remembers her warts-and-all company-wide emails every Friday afternoon, updating staff on the latest developments. The honesty of those emails when the company's future became less certain won her many admirers. "People trust her and are incredibly loyal to her," says Saxton. "And personal connections clearly mean a lot to her too."

It's interesting to note, despite her varied career, Hazlitt has retained the same personal assistant, Alex Fearnley, for more than 10 years. Similarly, when Hazlitt's new broom at ITV resulted in some senior departures, including Gary Digby and Simon Lent, she turned to previous radio colleagues, albeit proven performers, Simon Daglish and Chris Goldson, among others.

The managing director now says the journey has been as much about building a business that operates in a more collaborative way internally, ironing out the legacies of the individual franchises upon which ITV plc had been formed, as well as being more open to creative industry partnerships. Fears about her lack of TV expertise have long been allayed, according to Thinkbox' Alps, who singles out the wise poaching of Channel 5's knowledgeable Kelly Williams. Alps also points to a "genuine culture change at ITV".
'Less confrontational and a bit more human'
Chris Locke, the trading director at Starcom MediaVest Group, refers to the exit of Digby, the former group commercial director, as "a bit of a deep-breath moment", but agrees the broadcaster is trying to be more innovative. He notes that the commercial team today is "less confrontational and a bit more human", and credits them with being "really good with clients".

ITV is now more than halfway through its "five-year transformation plan" and is in an altogether healthier position. Group pre-tax profits rose 6 per cent to £348 million last year, with turnover up 3 per cent to £2.2 billion. Flat ad revenues across its channels were enough to outperform the wider ad market, which dropped by around 1 per cent, or the equivalent of £38 million. But the market remains tough and Hazlitt expects innovations beyond the TV spot to drive growth in 2013.

Taking inspiration from her radio days, a more creative approach to sponsorships is one area being explored. There has been early success with the tie-up between Comparethemarket.com and Coronation Street. The multi-year deal is said to be worth "well over £30 million" and involved close collaboration with the agencies VCCP and ZenithOptimedia and ITV's creative and commercial teams.

"Everybody was involved and had to come together – they got access in a way that a sponsor has never had before," Hazlitt says. "So their idents were actually using the Corrie sets – something we could never have done if we didn't have that trust and relationship."
'Advertising is the most fantastic business'
She refuses to predict whether ITV's family of channels – ITV1, ITV2, ITV3, ITV4 and CITV - will perform better than the flat (0%) advertising growth achieved in 2012. She admits the traditional 30 second spot "has gone quite far into a commodity", but has little time for those who suggest the end is nigh for the business.

"People always go on, don't they, about poor old advertising, as though there's something wrong with it," she says. "It is actually the most fantastic business, and, of course, it is totally part of the fabric of our world and society. The business of making brands has been going on since forever."

At this point, she becomes rather animated, regaling how, over many centuries, monarchs – mostly men by the way - have nurtured their own brands, while religion has been the omnipresent catalyst for creating the forums for most shared-experiences.

It's not quite a coherent narrative, but is delivered with such mischievous conviction by the former acting student, that you can't help but enjoy every moment of it.

"People have gathered together to be given messages since the beginning of time, and that ain't gonna change," she says, nearing her conclusion. "The advertising business is about that, it's about giving messages to people and getting your brand across. That is absolutely a sustainable business. And it's a fantastic business."

An exaggerated laugh marks the end of the monologue. And yet a shake-up of the 30-second ad is long overdue, Hazlitt adds, before citing second-screen opportunities and calling for more holistic partnerships. The Territorial Army, for example, used ITN Studios to produce live ads from Afghanistan last month, working with JWT and MediaCom. It was "absolutely incredible", she says, and asks why retailers are not exploring the broadcasters ability to run live messages "to sell tomatoes or something?"

Clearly still revelling in her role at the broadcaster, the commercial leader notes that "people used to say ITV is the last place you would look to for innovation", but believes that perception is finally starting to change.
She says: "We've now got real revenues coming out of non traditional and new technology spaces, which is so exciting, and also we've got a fabulous group of human beings doing it too."

Looking ahead, Hazlitt is "very excited" about the opportunities around the "marvellous" programming coming to ITV, thanks to its £1 billion investment.

She says: "Since coming in here, I have been totally gripped by the power of the content, and when you get it right, how impactful it is on society very quickly. And if you're a commercial bird like me, the ability to monetise that, in not only the traditionally 30 second spot, but in all the other ways too, is very exciting."

We're out of time, she's running late, and yet you know she's only just getting started. Striding through the office and at the top of her voice, she shouts over her shoulder: "Just make sure you use a good picture, or else..."


The lowdown

Age: 49
Family: Married with three small children and two big stepchildren
Desert-island luxury: A telly
Interests: Family, friends, running, Fulham FC, books