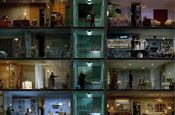 The agency picked up seven silver awards and three bronze awards for Harvey Nichols, for its winter sale and summer sale campaigns. However, other British agencies were conspicuous by their absence.

Russell Ramsey, executive creative director at JWT and a juror at the awards, said that he didn't believe there was a particularly high number of entrants from the UK, which was a contributing factor.

However, he added: "There were a lot of ads for things like highlighters and stain removers from other markets where the agencies have really tried to use the brief to make award-winning work.

"We wouldn't get these types of briefs in London so we get less chance to do that kind of work. It's almost as if we're in the real world and they're not."

The HBO work was unanimously voted the winner in the category.

Jury president Prasoon Joshi, the executive chairman of McCann WorldGroup India and the regional executive creative director for Asia-Pacific, said: "Outdoor is the only medium that has to battle the life around it and the HBO work was the only entrant that was better than the life that surrounds it.

"It did complete justice to the medium."

He also gave high praise to BBDO New York's other entrant, its "cables: protest" work for BBC World.