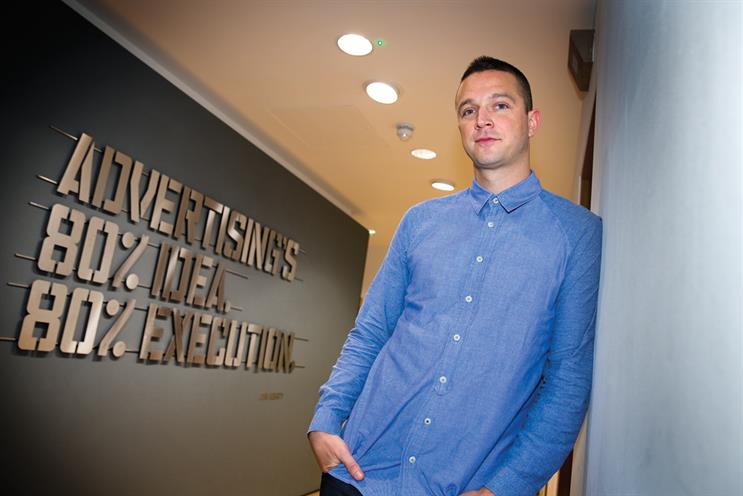 The only thing I know for sure is that I don't have all the answers. I've made a career of surrounding myself with people I look up to, who have carried me every step of the way, and by hiring a team of talent that share an obsession for making things special.
I'm fortunate as I work at an agency that sits production at the heart of its offering. As Sir John Hegarty said: "Advertising is 80 per cent idea, but it is also 80 per cent execution."
At its simplest, producers are responsible for leading the execution, ensuring projects are delivered within time and budget. That said, there is so much opportunity throughout production to inspire and delight. For me, production is about partnerships and creating the kind of magic that can't be put on a page.
As the landscape shifts, the importance of production only increases. It must be better-respected and protected, but it also needs to flex to be more agile and responsive for a digital world.
How I got into production
I'm not sure how I fell into production. I grew up in Vienna and moved to England to do a Master of Engineering.
Growing up as a Eurotrash kid learning English from MTV and VHS tapes, I became obsessive about film. Before committing to engineering, I landed a placement at an agency TV department.
In between making tea, I organised the director showreel library. We had a room with piles of U-matic tapes stacked to the ceiling. I watched and logged every one. I remember watching the work of Spike Jonze, Michel Gondry and Jonathan Glazer thinking the opportunity of working with that talent had to be the best job in the world. I learnt how to produce and, 12 years ago, joined Bartle Bogle Hegarty.
Production at BBH
At BBH, we've built a multi-skilled connected production offering based on three core principles: integration, innovation and inspiration.
INTEGRATION We've invested in cross-pollinating skills across production both with a group of individuals and by blurring the lines between the department disciplines. We invest a lot in training and, as a result, have a new generation of multi-skilled producers stepping forward. Integration isn't a discipline, it's a mindset and one that any future-facing producer should embrace.
INNOVATION Over the years, BBH Interactive production has evolved to something I am proud of and learn so much from. They are directly linked to creative tech, UX, digital design and the core business, optimising everything we make for a digital world.
INSPIRATION Every pro­ducer has a responsibility to bring the outside world in and ensure we stay ahead of the game on fresh talent, technology and trends. Production's relationship with creative is critical.
The most important partner for a head of production is the executive creative director and I'm lucky to have a close partnership with Nick Gill. Nick sees producers as the "third creative" and encourages us to collaborate early to help shape ideas.
Beyond that, production is about forging and managing high-performing partnerships. An open dialogue with both clients and production partners is important, and it's critical to be plugged into making as much as managing.
There is an outdated perception that production partners are working at inflated margins. This is just not the case. What is true is that you get what you pay for. I would challenge any client to work with the director Ringan Ledwidge and think otherwise.
That's not to say that we are not continually interrogating our offering, seeking better value. The key is respecting that the cost is in the detail.
The production landscape is shifting
The fastest-growing opportunity lies in redefining how we produce content for a digital world.
Consumption of online video is seeing massive growth. Video traffic is set to make up 84 per cent of all global internet traffic by 2018 (Cisco, June 2014).
As video consumption grows, our clients are shifting the balance from the traditional paid-for advertising model to a more "always-on" editorial one. As a result, we need to create more strategically aligned content at a higher speed and lower cost.
It isn't sustainable to deploy the traditional processes to both originate and produce this. I've worked with my chief executive listening to our clients to get to a new solution of three distinct tiers for approaching video production, with different terms of engagement depending on the budget/time available and the outputs destination/deliverables.
Often, the biggest challenge is reframing quality, as quality is hard to disconnect from cost. However, by stream­lining both the creative and production process, we can unlock new efficiencies.
I can absolutely reconcile the need for our offering to deliver big-investment, high-impact output through a more involved process with the need to deliver more low-cost content for the digital space. I am equally excited about both and they need to work to complement each other.
Most important is that all content we produce has purpose, be it informative, useful or entertaining.
What's most exciting about this space is that it lays the foundations for us to start producing entertainment rather than just interrupting it. We've been talking about branded content a lot, but it's hard to hold up great examples with clear ROI. This feels like the opportunity to shift brand communication towards a more rewarding and involved one for our audience.
Is that too ambitious? In a year when the highest-grossing film is a commercial for Lego, I don't think it is.
In a nutshell
1. How will your job change in the next five years and what are you doing to prepare for it?
As clients shift from a traditional advertising model to a more always-on editorial one, there is a growing demand for more responsive, low-cost video content.
I don't think deploying the traditional production process for this space is efficient or sustainable for both agencies and production partners.
The key is understanding that the cost is in the control. That is as much of a change in ways for working for agencies as it is clients. We need to offer up a new light-touch approach to producing content without managing every detail along the way. I think that will unlock both commercial and creative reward.
2. What characteristics do you need to be a successful head of production?
Production isn't rocket science. The most important thing is enthusiasm and organisation.
If you love working with incredibly creative people and help realise their vision, then it's the best job in the world. There is huge opportunity to over-deliver in production and that is the rewarding part.
Most importantly a head of production needs to have hands-on production experience and be passionate about making things.
It's a delicate balance between managing both commercial and creative drivers and people.
I believe that partnerships sit at the heart of production and an open dialogue with lead clients and production partners is critical.
Davud Karbassioun is the head of production at Bartle Bogle Hegarty