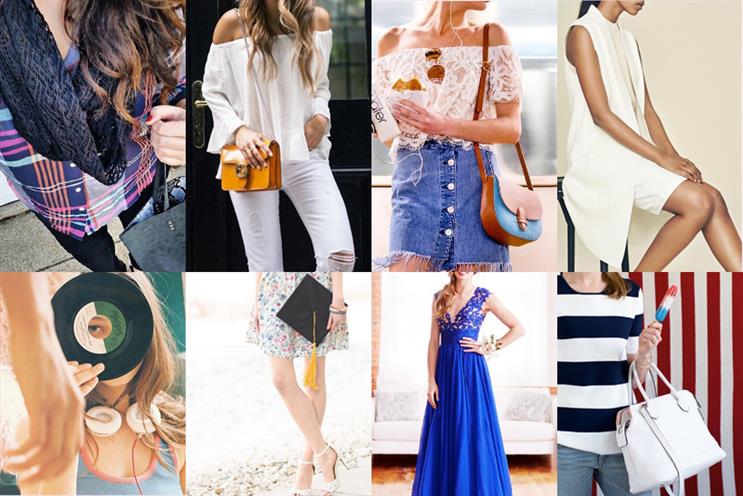 A few months ago, the Internet briefly became obsessed with the 'Headless Women of Hollywood' Tumblr. Started in April by comedian Marcia Belsky, the blog collects movie posters that show women's bodies, but not their heads. (As it turns out, there are a lot.) Having apparently never noticed this before, media outlets from the New York Times to Mashable to The Telegraph wrote breathless odes to the blog, praising it for blowing the lid off a rampant sexist trope.
"Hollywood has long been beset by accusations of sexism ' from the gender pay gap to sexist casting calls and scripts," reads The Telegraph. "Now a new Tumblr shines a light on another way women in the film industry are discriminated against: by being decapitated."
But when it comes to headless women, Hollywood has nothing on the advertising industry. Photographs in which models are cut off at the neck are as common in advertising as incompetent dads and moms who love to mop. Yet even as the industry has undergone a large-scale reassessment of its treatment of women this year, spurred by everything from the Erin Johnson discrimination suit to Madonna Badger's campaign to stop the objectification of models, there hasn't been much conversation around the practice of leaving out that fundamental part of a woman — her head.
"The head is first and foremost the thinking part of the human body, where our motivations and feelings are located," writes Belsky in the "About" section of "Headless Women of Hollywood." She notes that the head is what allows women to stand out as individuals, and when it is cut out of sight, women become "interchangeable."
By far the greatest producer of headless lady ads is the fashion industry. If you follow fashion brands on social media, you might, or might not, have noticed a lack of female heads popping up in your feed. A scroll through the Instagram feeds of Bloomingdales, Kohls, Ann Taylor, TJ Maxx and Urban Outfitters reveal scores of photos in which models' heads are cut off at or below the neck, or slightly above the mouth. Other times heads are covered entirely by hats; hair or random items like cameras; books or (in one instance) a vinyl record.
Bloomingdales:
Kohls:
(We can't see the body part that allowed her to make it to her graduation.)
Ann Taylor:
One of the worst offenders is 7 for all Mankind's Instagram account. Out of the 1,747 posts, there are 1,007 photos featuring women. In more than half of these photos (544 to be exact), women are shown missing their heads, missing half of their bodies, with their faces covered with hair or with their backs turned to the camera. And that doesn't include the many photos in which the women are looking down or away from the camera, or those where they are wearing sunglasses. (Even the side of a woman's face can still reveal something of her character, right?)
7 for All Mankind:
(Oh, the irony … This girl doesn't have a head, and yet she is reading a book about empowerment.)
And the practice far pre-dates social media, the Internet and even the 'Mad Men' era. A 1956 ad for Pretty Polly Nylons shows just the legs of a woman, an old Tampax print ad featured a woman from the waist down with a fish dangling from her vagina, and an old Gucci ad obscures the head of a woman being held by a man. Not all fashion brands have headless photos on their social accounts. Brands like H&M, TopShop and Hugo Boss show a lot of faces looking straight at the camera.
Sexism, or good business?
Objectification in advertising has been around since its conception, according to CJ Yeh, a graphic design professor at the Fashion Institute of Technology. Yeh, who had previously worked at a top ad agency in Taiwan, has taught about motion graphics since 2003, and says he often uses his lectures to address how women are portrayed in advertising. "The fashion industry is notorious when it comes to using clothes to objectify women," he said, "There's that old saying, 'Sex sells.' "
Still, Yeh believes that it's not the real reason why the women in these ads are seen without heads. According to Yeh, leaving out a woman's head is a tactic to focus the viewer's attention on the clothes rather than the model. Photos like these make it "easier to physiologically imagine yourself in the clothes," he said.
Even Belsky feels that her movie poster theory becomes "murky" when applied to ads that sell fashion. "People will argue that in these images the marketer is showcasing the clothing, which is why the women are headless," she said, "It's a reductive argument, but it's not entirely untrue."
TJ Maxx:
Madonna Badger, co-founder and chief creative director of Badger & Winters, posits another business reason for the preponderance of headless women. "Modeling agencies charge much less when the model is unrecognizable," she said. "That typically means that if you crop the photograph so that there's no head, then the model is actually cheaper."
If there is no misogynistic intention behind the practice, perhaps it's not worth recognizing as a feminist issue. Even Cindy Gallop, the founder of MakeLoveNotPorn.com and one of the most vociferous anti-sexism voices in adland (there's even a Twitter account dedicated to alerting people when she's called them out, @YouGotGalloped), said she didn't have much to say on the topic. "I'll be honest, I don't feel this is as much of an issue in advertising as it is in a film poster context," she said in an email message. "I think objectification happens in other ways far more egregious than headlessness."
But some feel otherwise. Badger, whose agency launched the anti-objectification #WomenNotObjects campaign in January, argues that the frequent absence of female heads in fashion imagery perpetuates the familiar idea of "women as objects." "It dehumanizes a person because you can't see that person's face, expression or reaction," she said. "It makes women into a prop to sell whatever it is you're trying to sell."
And if the brands truly are doing it simply to save money on fees paid to models? Badger notes that the practice itself is degrading. "So if you treat her like an object, she's actually cheaper," she said.
For whatever reason, all these headless models don't seem to be having any negative effect on the reputation and pocketbooks of these fashion brands, especially on Instagram, where followers are in the hundreds of thousands and such posts regularly receive hundreds of likes. (We reached out to every brand mentioned here for comment; all either declined or failed to respond.)
Urban Outfitters EU:
But Badger believes this specific practice will appeal to the brands' target audiences less and less as younger generations take over. "Millennials overall are a very purpose-driven generation, and part of that is humanizing people and wanting to be a part of humanity, you know," she said, "I mean, that's the important part."
A humanity problem
Adrielle Munger works in development at Redstockings and National Women's Liberation (NWL) , the groups that were behind the "This Oppresses Women" stickers that began popping up all over the New York subways last summer. To Munger, brands that feature headless women are not just trying to promote the clothes. She said, "If it was just a "focus on the clothes," advertisers would use mannequins, no?
"Men's bodies are usually displayed in full, because the consumers (usually men) care about the experience that the man in the advertisement is having. Is he happy, excited, cool, turned on? Consumers relate to the experience of the product," said Munger, "For headless women, the narrative is different. Instead, we are not given the option to experience the product in the same cerebral way. What matters for us is how we look. Period. What matters is that you look accessible and attractive. How you feel does not matter."
But, according to Badger, this is not a feminist problem—it's a humanity problem, and all women and men should care about it. After all, men do get their heads cut out of ads as well, it just doesn't happen as often. In fact, of all objectified images in media, 96% of them are women, a stat Badger received from a TED talk by professor Caroline Heldman.
The thing is, sometimes these images can blow right past us because of the environment and speed at which they are presented to us. This is especially true when it comes to social media, where friends and brands vie for our attention every day. Sometimes, it takes someone to point them out for them to enter our consciousness.
"Headless women on posters isn't something I'd noticed," tweeted @GeraldineRowe about the 'Headless Women of Hollywood' Tumblr, "but now it's been pointed out to me, no doubt I'll see it everywhere."