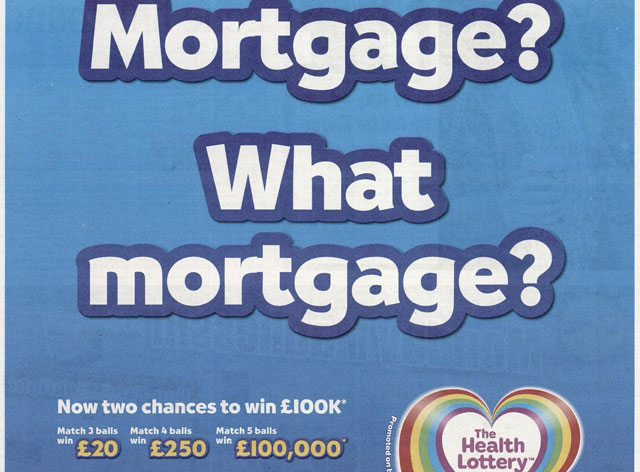 The banned national press ad included a large headline stating, 'Mortgage? What mortgage?' with smaller text underneath saying, "Now two chances to win £100k...*, above examples of the prizes on offer.

The Gambling Reform & Society Perception Group (GRASP) complained to the Advertising Standards Authority (ASA) that the ad, which was created by McCann Manchester, was irresponsible.

GRASP said the ad implied that participating in a lottery was a solution to financial concerns or a way to achieve financial security.

However, the Health Lottery claimed the ad was simply suggesting how a lottery winner could spend their winnings and the ad was part of a series with headlines such as, 'I took all of my family and friends to the Caribbean'.

Although the ASA said it understood the Health Lottery considered the ad did not depict participation in a lottery as a solution to financial concerns, the regulating body disagreed.
The CAP code states that "marketing communications must not suggest that participating in a lottery can be a solution to financial concerns", but can "refer to other benefits of winning a prize".

The ASA considered that other benefits of a winning a prize included purchasing new goods or experiences, rather than paying off existing debts.

As such, the ASA ruled that because the ad suggested someone who had won the lottery could pay off their debts, the implication was that participation in the lottery was a way of solving financial concerns or achieving financial security.

The ad was found in breach of CAP Code rules 1.3 (Social responsibility) and 17.3 (Lotteries).
The press ad must not appear again in its current form and the ASA warned the Health Lottery to take care not to imply in future ads that participating in a lottery was a solution to financial concerns or a way to achieve financial security.

Follow @MaisieMcCabe