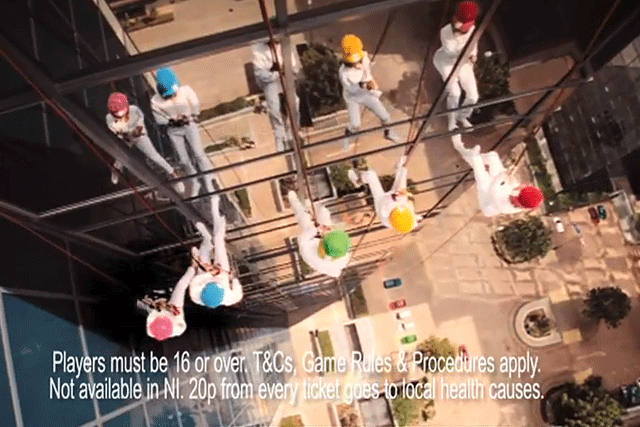 When The Health Lottery burst onto the scene last autumn, with a campaign featuring characters with rainbow Afros, and a voiceover by Brian Blessed, the burning question was whether the Northern & Shell-owned enterprise could make a mark on a category dominated by one player for almost two decades.
Just nine months later, the structure of the organisation has already shifted, with chief executive Martin Hall stepping aside to a non-executive role, and David Wall, an IT specialist, taking the reins as chief operating officer. Marketing director Sarah Tinsley-Benson left in March; her remit is now Wall's responsibility, with Hall still helping to steer The Health Lottery's marketing strategy.
Nonetheless, Hall says its achievements to date have been a triumph, with tickets now available in more than 37,000 retailers.

Hall - who, as an FMCG marketer, led major campaigns at Cadbury, PepsiCo, Coca-Cola and Kraft, before rising to general manager at Premier Foods - says The Health Lottery's failure to reach initial ambitious targets had no bearing on him stepping down.
He insists that a plan is in place, from evolving campaigns to innovations, that will steer the challenger brand to success. Hall also points out that this weekend, The Health Lottery expects to break the £20m mark in the money it has raised for good causes. However, it seems certain it will fall short of its initial annual target of £50m, with the figure more likely to be in the region of £30m.
Wealth of experience
Taking on a dominant brand is nothing new for Hall, who helped reinvigorate Kenco despite the strength of Nescafe 10 years ago, before going head-to-head with 192 directory enquiries when he was commercial director of The Number (118 118).
The Health Lottery undoubtedly faces a Herculean task in its struggle against chief protagonist Camelot, the National Lottery operator. While its rival is challenging the decision by the gambling commission to license The Health Lottery, Hall remains focused on building brand awareness and participation.
Speaking to Marketing, he insists: 'We are the little guys here.' With Northern & Shell's significant media footprint and existing retailer relationships, the next phase of development aims to champion their work with local communities.
Q&A
Marketing: How do you approach marketing as a challenger brand?
Hall We've had to find a game that offers something different, which is key when you're the challenger. We went from zero awareness up to more than 75% in our 51 regions in less than 12 weeks. I don't know many brands that have been able to achieve that; we did it not just through spending money, but also by having a clear brand proposition.
There was a lot of fear at launch about our claims (around how we help the 51 community interest companies which benefit from The Health Lottery), but it's been delivered. Every one of the 51 society lotteries has raised money through The Health Lottery brand for regional health causes across Great Britain.
Should the National Lottery feel threatened by you?
We know that having two or three players in the category is good for everyone - and good causes win as a result. When 118 came in against 192, directory enquiries call numbers grew. I don't believe (Camelot's) figures (which claim The Health Lottery costs National Lottery causes £1m a week), but even going on those, it would mean local charities are still £10m better off through our existence over the past 39 weeks. We will continue to work with the Gambling Commission to make sure we are compliant. We will work with the regulator, not the regulated.
What do you make of [Camelot managing director] Andy Duncan's claims that The Health Lottery is 'illegal'?
It's very simple. Only one organisation is empowered to determine whether we, or any other lottery-based organisation, is legal and that's the Gambling Commission. If Andy Duncan wants to express an opinion that's all well and good, but his opinion has no legal worth. The Gambling Commission has issued the licence and we will continue to work with them to make sure we are compliant. We will work with the regulator not the regulated.
Do you have other innovation such as scratchcards in the pipeline?
You can pretty quickly create a list of things that might be of interest to us. We are going to continue to change (our proposition) by giving new and different reasons to play.
Will you start to focus more on the good causes in your marketing, following your loud launch ads?
A little bit of fun has gone missing from the category, it had become a bit stale and boring, so part of our task as a challenger brand was to bring energy and excitement and get noticed.
The launch generated high energy and strong awareness in a short period of time. However, yes, you will see a different approach with the launch versus ongoing activity. (Good causes) will be a fundamental part of what we communicate in future.
Richard (Desmond) is our investor and he is a determined individual. The Health Lottery centres on continued marketing spend, so I would expect to see a continued heavyweight level of marketing.