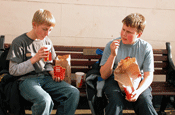 Johnson believes that many children watch popular programmes such as the X-Factor, during which food and soft drink ads are allowed because most viewers are adults. He wants this loophole in the code, which was introduced by Ofcom in April, to be closed.
Speaking in the House of Commons on Wednesday, Johnson said the Government had already taken the "bold" measure to ban the advertising of unhealthy foods during children's TV programmes, but was "determined to go further" if the evidence supported it.
"We will therefore be reviewing the impact of the restriction on the nature and balance of food promotion to all children across all media," he added.
Johnson's department will consider tougher rules as it draws up the Government's response to the Foresight report published on Wednesday, which warned that 60 per cent of men, 50 per cent of women and 25 per cent of children will be clinically obese by 2050.
The ad industry will now be consulted by the Department of Health and will argue that the recent changes should be given more time to bed in.
Baroness Peta Buscombe, chief executive of the Advertising Association, said: "We hope that the Government will not pre-empt its 2007 review of food and soft drink advertising and promotions. The future solution must be better self-regulation and restraint by the advertising industry and not unwelcome and restrictive legislation."
She said the AA's research had found "demonstrable change" in the nature and balance of foods ads aimed at children since 2003.