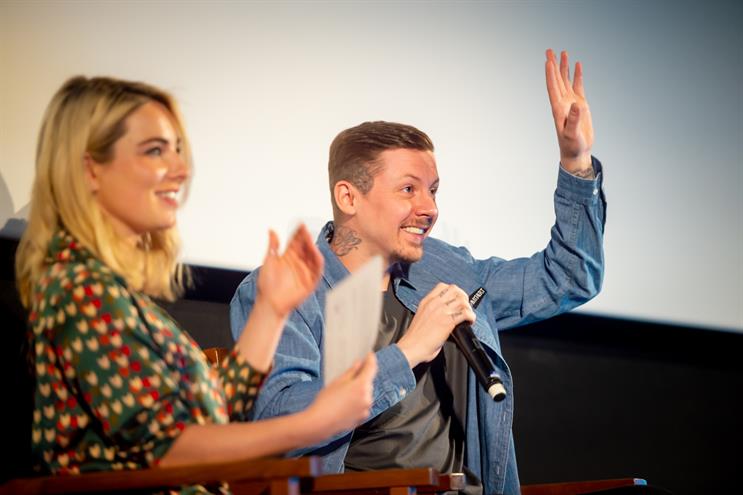 Times are good for radio. At Tuning In, Radiocentre's annual conference and celebration of all things audio, CEO Siobhan Kenny was able to announce that commercial radio advertising in the UK has topped £700 million – its highest ever figure.
Universal appeal
Important though it is, commercial success isn't the only thing firing up the sector right now. New stations, new technology, new techniques, and new talent are all in abundance as the industry seeks to turn up the dial on a medium that has universal appeal.
"89% of the population tune in every week and that figure has held for 10 years," said Kenny. "Considering other demands on our time, that's remarkable."
"We are a creative innovative industry that's looking forward.
The only thing we can be sure of is constant change.
Let's embrace that."
Siobhan Kenny
An early reminder of radio's sometimes underestimated omnipresence was Radiocentre's 'Mental Health Minute' campaign that kicked off Radio Audio Week on May 13. With 400 stations onboard, radio delivered an audience of more that 20 million to listen to a message relayed by the Duke of Cambridge, Stephen Fry and Katy Perry, among others.
Unprecedented love letters to Scala
One of the newest players in the sector, iconoclastic classical music station Scala, was at Tuning In to show how radio is changing. Only nine weeks from launch, Bauer's group managing director, national radio, Steve Parkinson, said the response to the station's pursuit of 'classical music dabblers' had been astonishing.
"I have never had love letters like we have for Scala in any of the stations I've run before," he said. "People are literally putting pen to paper to say how much they love it." And, on day one, 10,000 people asked Alexa to 'play Scala'."
Scala showed how research and data provided an insight that there was a massive untapped market for classical music. A fresh approach to an established sector and unexpected presenters like Angellica Bell, Goldie and William Orbit, alongside the marquee appointment of Simon Mayo, is paying dividends, said Parkinson.
Now there's proof of contextual uplift
For advertisers, new research by Radiocentre and Neuro-Insight revealed the power of radio to cut through when used contextually. Mark Barber, planning director at Radiocentre, and Neuro-Insight's UK CEO Heather Andrew unveiled neuroscientific research demonstrating that radio ads targeted at relevant times and around specific tasks or activities is a more powerful driver of engagement.
And here it is in action...
Proof of the pudding came from Highways England, which used radio as the leading channel in a campaign to educate drivers on the dangers of tailgating. Impactful 'Space Invaders' creative from Adam & Eve/DDB played a big part, but its implementation through radio was the key to its success, said Alison Holliday, head of marketing & events at Highways England.
"Space Invaders was an integrated campaign, but radio was so important. We could access the target audience while they were engaged in the behaviour we wanted to change."
Results showed that radio significantly outstripped other media delivering 46% recall, way ahead of TV (32%) and online (21%).
Smarter cars will mean smarter radio
Ensuring that the in-car radio remains such a direct media channel, Michael Hill, MD of Radioplayer, said that defending the dashboard is what gets him up in the morning.
The collaboration between the BBC and commercial radio groups is performing a valuable role that is valued by car manufacturers. With cars increasingly smart in many ways, standards are important, and Hill revealed that Denmark has become the tenth country to join Radioplayer. "In the long term, self-driving cars will come along. You could step into a vehicle and have it take you to Cornwall on holiday. Where's radio going to be in that?" he asked.
Tuning In to talent
Of course, radio is nothing without its talent, and there was plenty on show. Two of KISS's newest presenters, Jordan Banjo and Perri Kiely, of Britain's Got Talent winners Diversity, were interviewed by more young talent, from the Radio Audio Week podcast team. With the industry set to announce the winners of its first Young Arias awards celebrating young talent, it seemed apt.
Banjo and Kiely talked to Campaign about the intimate connection with an audience that's only found in radio.
The importance of dynamic hosts was underlined by Ben Jeffries, CEO of Influencer, a business that links brands and influencer voices. Radio presenters were the original influencers, he said, and remained trusted voices in a world where people are increasingly sceptical.
Not only that, but they're cheaper than hiring social media influencers, said Flora Williams, connections planning business director, OMD – just one take away from a presentation that hammered home audio's position as the emerging star performer of media plans.
"Audio is sexy at the moment," she said. "Tools like voice activation are awesome but new technology is challenging to plan and buy. It's a very complicated audio landscape." She had charts aplenty that simplified how to do it.
Pushing the star button, Tuning In finished with a double whammy of talent. First up, Adam Johnson, director of marketing at Global, explained how faith in the team at Capital Breakfast extended to putting them on the front of a cereal box to make them front and centre of its national launch.
Closing, Heart presenter Sian Welby interviewed Professor Green about his journey from rap battles on pirate radio, to chart topping status, his own radio show, and now his own podcast, Learning to Adult Slowly. Throughout his career, radio had been a powerful force, he said.
"I remember coming back from a gig in Aberdeen around the time that Need You Tonight was out. I turned on the radio and it was playing on the first three stations. You don't forget moments like that."