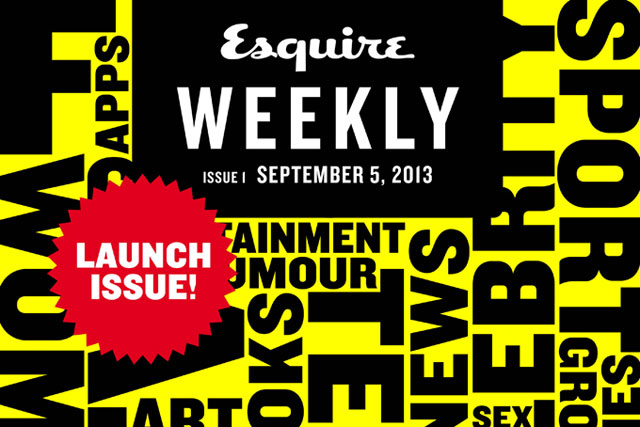 From Thursday 5 September, Esquire Weekly will be sold at 99p through the Apple iTunes store, with an Android version for other tablet devices set to follow.
The Esquire Weekly concept is "your week in 20 minutes", and promises to bring some features to life with interactive functionality and video, and host an in-built e-commerce functionality enabling people to search and buy product recommendations.
The first UK edition was published in Spring/Summer of 1991, and its circulation – although notably smaller than rivals such as GQ and FHM – has fluctuated heavily in a falling market.

Esquire's average print circulation fell 14.3% to 52,801 in the first half of 2013, bringing it on a par with its lowest sales performance of the last decade.
Esquire editor Alex Bilmes describes the move as part of the brand's transformation from its monthly print roots into a multiplatform product.
Source: ABC
Other new additions include the launch of bi-annual fashion magazine, the Big Black Book, an overhaul of the website in the spring, and a concerted push into mobile apps for smartphones. Currently, Esquire is only offered as a mobile-optimised website on phones.
Esquire costs £4.25 in print from a newsagent. The tablet Esquire Weekly will be sold on iTunes, in a temporary exclusive deal, for 99p an edition.
A three-month deal, for £4.99, will provide 12 Esquire Weekly editions, three of the digital edition of the monthly magazine and one of the Big Black Book.
First launched in the US in 1933, Esquire's style and has seen many iterations over the years, but has stayed true to its core remit of being "all things to all men".

Esquire has been one of Hearst's international success stories since being acquired by the publisher in 1986. There are now more than 25 licensed editions around the world.