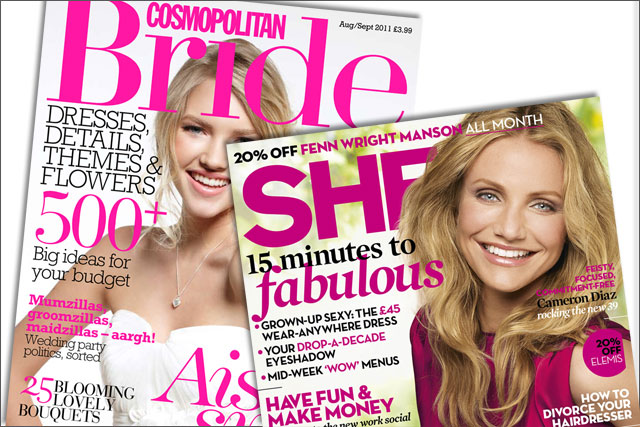 The decision to close the former Natmag titles follows Hearst's $651m acquisition of French publisher Lagardere's international magazine business, including UK magazines Red and Elle.
The move, announced yesterday, will mean Cosmopolitan Bride's October/November issue, published 25 August, and She's September edition, published 16 August, will be the last.
Meribeth Parker, group publishing director of Hearst Magazines UK, said: "Following the acquisition of Hachette Filipacchi, we have looked at our business and made the decision to close both She and Cosmopolitan Bride to ensure our company is as robust and adaptable as possible for the future.
"As a business that believes strongly in the future of print, it is never an easy decision to close a magazine.
"However we are taking this decisive action now to strengthen our overall portfolio, focusing our investment on our stronger titles and digital expansion.
"Both titles have earned a loyal following in their respective markets. Competition in those sectors, however, has never been fiercer and we cannot ignore those trends or the need to adapt our business accordingly."
Monthly magazine She and bi-monthly Cosmopolitan Bride both saw sales fall 3.7% year on year, while Hachette titles Elle UK and Red both recorded year-on-year sales increases.
Hearst announced this week that its UK offshoot NatMag would merge with Lagardere's Hachette Filipacchi UK into one business, with a new organisational structure ready by September.
Arnaud de Puyfontaine, who was appointed executive vice-president of Hearst's international business in June, is the chief executive of Hearst Magazines UK.
But speaking to Media Week, De Puyfontaine said it was still "too early" to know whether there would be any redundancies.
Hachette Filipacchi brands acquired include Elle Decoration, Psychologies, All About Soap, Inside Soap, Digital Spy and Sugarscape.
After the closures, Hearst Magazines' portfolio will include 24 print magazines.