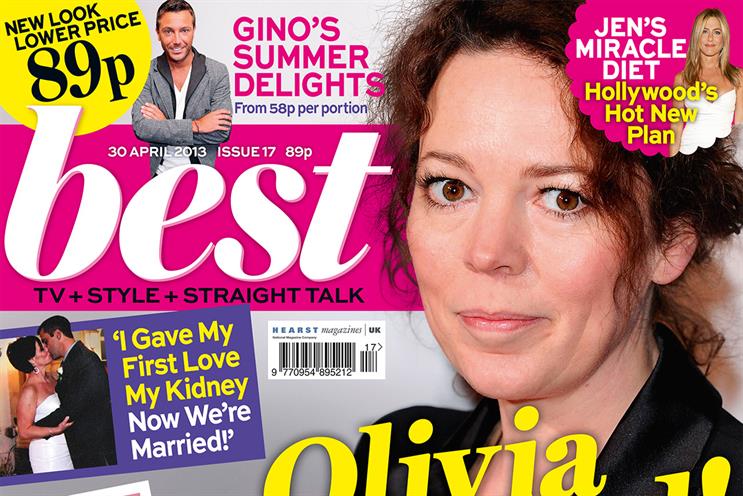 The magazine, on sale today, has a new look and website and is aimed at what the publisher has defined as the "recessionista mum" – a consumer within the classic sector of women aged 44 to 60.
The redesign and repositioning is the result of research with more than 500 women.
Best's new target consumer is an emerging group of working class, middle-aged UK women who are adapting to the recession and becoming empowered by a greater understanding of technology, according to Hearst.
The cover price has been cut from 94p to 89p to reflect this value-orientated consumer, who is driven by the ability to search for bargains online.
Best's findings state that the recession has led to an increase in multi-generational households, meaning young adults aged 16 to 25 are more likely to live with their parents, due to financial constraints, and to influence their parents' entertainment and technology choices.
The "recessionista mum" has a growing confidence in using technology to search for shopping bargains online, as well as an awareness of social media.
She is increasingly supporting a younger generation who are short disposable cash, as well as safeguarding the spend of the older generation by using digital platforms to find good deals for elderly parents and so has control of three budgets, or what Hearst dubs the "hat-trick housewife" effect.
Michael Rowley, the group publishing director of Hearst's weekly magazines, said: "These women are looking after the interests of three generations which means they are influencing three generations of spend, and being influenced by their daughters.
"As mass market women, they are at the forefront of the economic challenges we're all under. The Best research showed that they are not being particularly downtrodden by that, they are being empowered by it, because they have to be.
"We are seeing more confidence and greater use of digital, and that's why we've redesigned the magazine, because they are rising to the challenge."
Rowley describes the redesign as bold and modern and the magazine's editorial has been refocused towards shopping, value and entertainment, with other sections including real life, food, home and fashion.
The website Bestdaily.co.uk has been redeveloped to provide hourly online updates as well as forums and video clips. The magazine also has higher design values and a new logo.