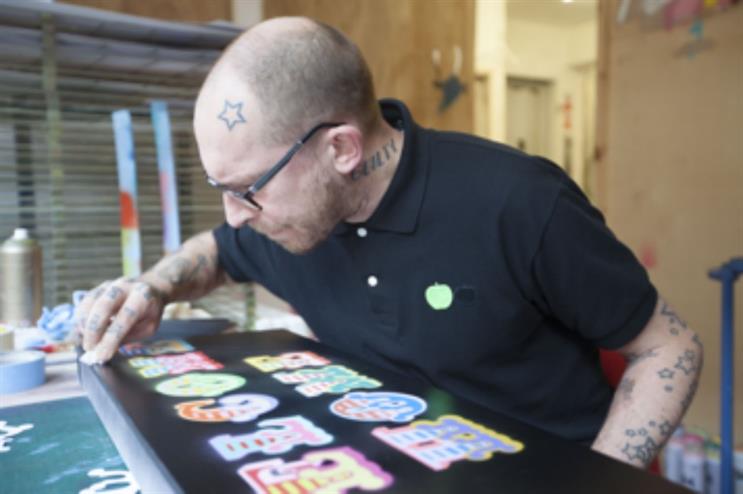 Heathrow is giving every passenger the chance to have their own heartfelt reunion in arrivals, reflecting that of the teddy bears' Doris and Edward, which feature in Heathrow's 2016 Christmas ad.
To celebrate those tender moments, the airport has partnered with London-based street artist, Ben Eine, to create a range of personalised banners, helping family and friends to make greeting their loved ones extra special this year.
The limited edition banners are available to pick up at Heathrow for a week from today (6 December), when Ben Eine will be customising the prints for people waiting to welcome home loved ones for Christmas. Family and friends can pick up a banner in all terminals until 10 December. The banners will also be available to download for free online throughout the Christmas season. All donations for the personalised banners from the terminals will go to Heathrow's charity partner Oxfam.
Commenting on the launch Eine said; "I'm always traveling and spend a lot of time in airports so I know what it feels like to get a personal welcome home. I wish I got more of them! I love being able to communicate through my artwork and I am looking forward to helping to put a smile on the faces of people arriving into London Heathrow this Christmas."
Fiona Carleton, head of passenger experience at Heathrow, added: "We're going to welcome over 2.5 million people home this Christmas. We hope the banners help families and loved ones create their very own special moment together – I can't wait to see the hugs and smiles from passengers when they see the messages awaiting them."
Over 1,000 people visit Heathrow each month just to give their loved ones an extra special welcome. There will be one of three banners to choose from; Welcome Home, Love You and Missed You, all using Eine's iconic and colourful fonts. To be in with the chance to claim a beautifully finished personalised Ben Eine for Heathrow print, fans can also go online and sign up for one of the limited edition collection.
Passengers travelling through Heathrow in September were being treated to an installation featuring a giant floral map of the world. Gin brand Bombay Sapphire launched a month-long experiential campaign at Heathrow's Terminal 5 that same month.