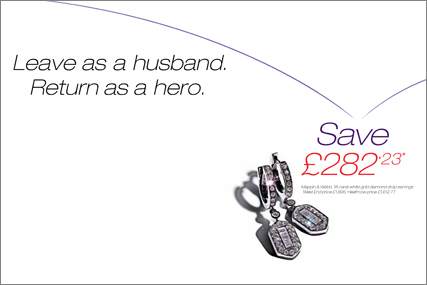 The campaign, developed by advertising agency Masius and planned and bought by Carat, is aimed at encouraging the three million passengers that are due to fly from Heathrow this Christmas to delay their festive shopping until the airport and take advantage of Heathrow's reserve-and-collect service at heathrow.com.
It will appear in national press as well as outdoor sites accessing London's West End, including Covent Garden, Bond Street and Knightsbridge tube stations and at the airport itself, and will promote more than 400 stores at the airport and a variety of brands including Apple, Breitling and Bally.
The activity follows on from the airport's first retail advertising campaign, taglined, "Heathrow shopping. The West End for less", which launched in the summer.
The new campaign will target passengers from both the UK and abroad to highlight the significant savings available compared to the capital's West End stores.
New straplines include, "You've left all your Christmas shopping until the last minute? How very sensible" and "Christmas shopping. Time to leave the country".

Nick Adderley, Heathrow marketing and insight director, said: "Christmas is always a big event at Heathrow, when families and friends travel around the world with us to be together at this special time of year.

"As the gateway for more than three million passengers at Christmas, we want to remind our customers of the savings they can benefit from by shopping at Heathrow as well as the amazing range of brands and products available for gifting."