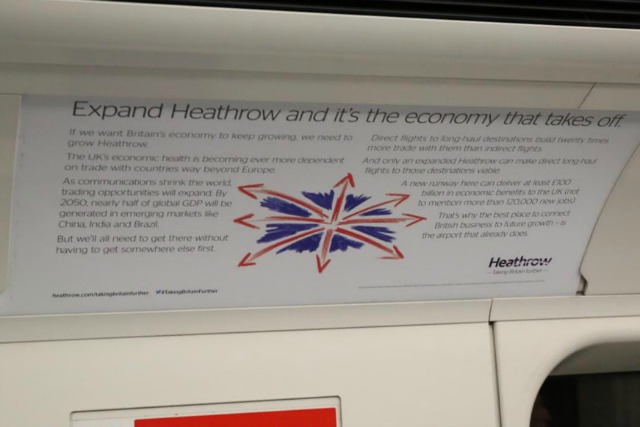 Three national press ads, one bus stop ad, two London Underground ads and an email from Heathrow Airport presented the case for the expansion of Heathrow airport, as part of a campaign created by Saatchi Masius.
Of the 13 complaints, seven issues were investigated and one was upheld.
The various ads were variations on the theme developed in the press ads, which read: "If we want Britain's economy to keep growing, we need to grow Heathrow", before setting out the case for the expansion.
In the ads, various statistics and statements were cited, showing the benefits of Heathrow expansion. Most included footnotes to indicate where the research had come from.
Some of the complaints directly challenged these statements, but the ASA dismissed the majority of them, with the exception of the statement made on one Tube ad, which read: "Direct flights to long-haul destinations build twenty times more trade with them than indirect flights." One complaint questioned whether that statement could be substantiated.
For this statement, Heathrow provided the One Hub or None report and Frontier Economics' UK Trade and the Importance of Connectivity, highlighting the following section: "UK business trades 20 times as much with countries where there are daily flights than with those with less frequent or no direct service."
A third report included data showing emerging markets with connections to other European hubs, but not with the UK, traded more with those countries.
It gave the example of Indonesia, which the UK trades imports and exports to the value of 0.11 per cent of GDP, and trades with Germany and the Netherlands, which on average are worth 0.3 per cent of GDP.
However, the ASA was not convinced.
The ASA noted the difference between what people would understand from the ad (business generated when taking a direct or indirect flight) and the actual comparison evidence (between those destinations with daily direct flights and others with poorer connectivity).
The ASA also considered whether the claim suggested the direct flights would be the cause of the increase in the value of trade, when in fact other elements such as the relative economic development of those countries would impact on the value of trades.
Due to the discrepancies between how the claim was likely to be understood and what the supporting evidence stated, as well as the lack of explanation for how the 20 times figure was calculated, the ASA concluded that the claim was not adequately substantiated.
Therefore, that ad broke the code and must not appear again.