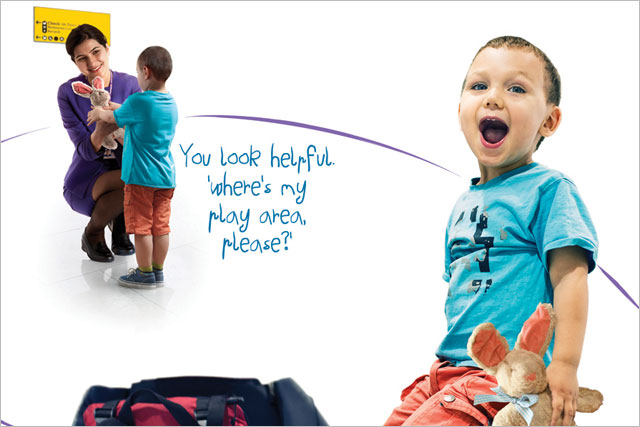 The launch of the campaign comes as an estimated 3.6 million families and individual consumers are expected to use the airport during the holiday period.
The campaign, which launches on 19 March and was created by agency Masius, will use the strapline, "Everyone gets a smoother takeoff at Heathrow," to demonstrate the family friendly services at the airport, alongside its retail offering.
The campaign runs across outdoor, press, digital, radio and London Underground, until 8 April. Media planning is being handled by Carat.
The ads promote a range of facilities being introduced to the airport this year that will benefit families, from "Kids eat free" deals, to extra-wide family parking spaces in all the long and short-stay car parks.
The activity comes less than a week after BAA relaunched the Heathrow Express, the high-speed train service between the airport and London.
The £16m brand overhaul sees the introduction of new trains, staff uniforms, and a new brand identity.
The airport will support its retail offering with further outdoor ads using its current strapline, "See it in London, buy it at Heathrow".
Nick Adderley, marketing and insight director at Heathrow said: "It's important that we communicate these services to passengers to ensure they have a positive experience at Heathrow and feel ready for their onward journeys."
"Heathrow has the highest retail sales of any airport in the world, as our latest retail figures show, and we know that many passengers are choosing to fly through Heathrow specifically to pick up items sold at the airport."
Last October, Adderly created a Heathrow "content hub" in a bid to improve consideration among consumers in the run-up to the Olympics.
Follow Loulla-Mae Eleftheriou-Smith on Twitter @LoullaMae_ES