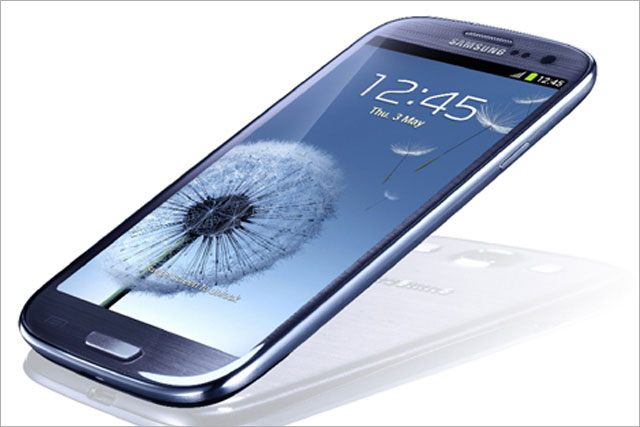 The Samsung Galaxy S III will launch in the UK on 30 May ahead of the Olympic Games and at the phone's unveiling last night at an event in London, Loesje de Vriese, head of marketing at Samsung Mobile Belgium, claimed the phone "will be the hero of the Olympic Games that are right around the corner".
A global ad campaign created by Cheil Worldwide will highlight the phone's "intuitive" features with creative that depicts important milestones in people's lives, with the aim of placing a "designed for humans" strapline at the centre.
The accompanying text states, "it understands you, share's what's in your heart, keeps track of loved ones, recognises who you are, follows your every move".
Samsung will attempt to differentiate the phone by conveying the message that it enhances the interaction between the device and its owner with a number of product features.
These include a "smart stay" feature that can detect your face and recognise where your eyes are looking so the phone does not go into screensaver mode when you are reading, or watching content on your phone.
Its "S Voice" voice recognition software allows information search and basic device-user communication, meaning users can voice controls to tell the phone alarm to "snooze", play their favourite songs, turn the volume up or down, send text messages and emails, organise schedules or automatically launch the camera and capture a photo.
The "Buddy photo share" function allows users to simultaneously share their photos with all those in the image.
Andy Griffiths, managing director of Samsung UK and Ireland, said a "human-centric mobile experience" has been created by "created by keeping in mind our daily needs and capabilities as human beings".
The phone will run on Google's Ice-Cream Sandwich Android operating system and will be NFC-enabled.
The gaming experience will be enhanced through 'Game Hub', providing access to numerous social games.
Video Hub brings users high quality TV and movies, while Samsung Music Hub will offer a personal music streaming service.
Game Hub, Video Hub and Music Hub will be introduced in select countries initially before being rolled out globally.
Follow Matthew Chapman at @mattchapmanUK