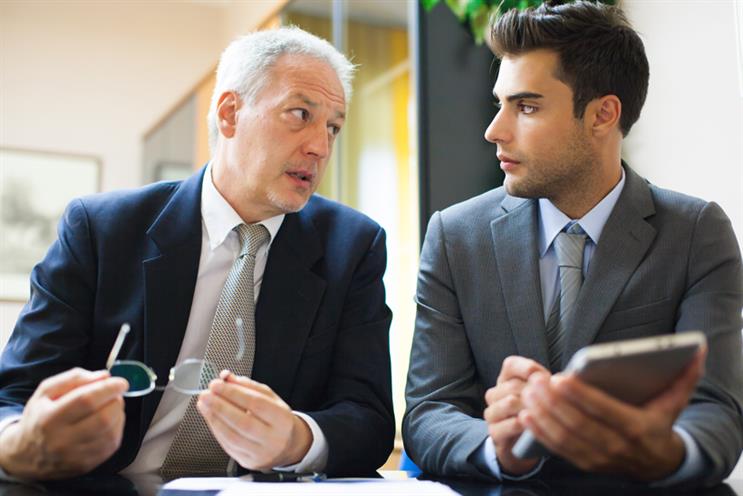 Is there a secret team that "disappears" any ad agency employee who turns 50 and still has the audacity to show up to the office?
You'd be forgiven for thinking that if you walked the floors of an agency.
Aside from those occupying senior positions, the vast majority of an agency's workforce is under 35. As the IPA's most recent Census shows, the average age of employees in all member agencies is 33.7. This has not changed since 2009.
"Our industry overly worships at the altar of youth," Sir John Hegarty says. He is speaking to Campaign after The Advertising Club of New York released a film about the Bartle Bogle Hegarty founder in its Inspiration series.
He adds: "I'm not being cynical about that. I played that card as much as I possibly could when I was 25. I was the young, angry, creative guy, and it worked for me."
Embracing the new
But while being "obsessed with the next thing" brings tremendous benefits to adland, keeping its ideas fresh and relevant, the downside is that the industry is too quick to ignore its heritage and devalue experience.
This wasn't the case when Hegarty first started. He was inspired by Bill Bernbach, who was in his fifties,
and also worked with legendary CDP creative director Colin Millward, who was a similar age: "We revered him. He was a god."
Now "we burn out" such individuals or shun them in favour of more energetic young creatives, Hegarty says.
He believes this trait of the ad industry is not repeated in other creative professions. Hegarty points to architect Frank Gehry, who is still working at 87: "Nobody in architecture has asked Frank to put the pen down and let a 24-year-old carry on doing it instead."
Hegarty also criticises the view that an older person cannot write ads that will resonate with a younger audience: "No-one in Hollywood turns round to Quentin Tarantino and says: 'How can you write a movie that will be watched by 25-year-olds?' But they do in our industry."
"Nobody has asked Frank Gehry to put the pen down and let a 24-year-old carry on doing it instead"
Shared knowledge
This dismissive attitude towards experience leads to ignorance of the industry's heritage. While someone in fashion would recognise the creations of Coco Chanel, and a painter would know Leonardo da Vinci's work, that sense of shared knowledge does not exist in adland, Hegarty claims.
He says: "Walk around UK agency creative departments and ask 'Have you seen John Webster's work?' –
I guarantee they say 'Who is John Webster?'. He produced some of the greatest TV ads of the last 50 years. But they wouldn't know him."
Moreover, Hegarty believes most would not have seen the past 50 Cannes Lions Grand Prix winners. "I'm not asking you to read War and Peace or go to a library for a week and immerse yourself in the works of some amazing art movement. It takes 50 minutes to watch 50 years. That's an education," Hegarty says, adding that past ads contain "gems of writing, thinking and design that you can learn from".
That's because adland has lost this culture of studying the past: "In our industry, we've lost that sense of where we've come from and understanding how to go forward."
Nurture, protect and guide
In order to improve the longevity of people in adland, Hegarty believes the industry should do more to nurture, protect and guide its creative talent. He thinks account people should act like band managers, helping creatives look after their long-term prospects.
"Creative people are not very good at managing their careers," Hegarty explains. "Somebody waves a large cheque in front of them and they go 'Oh, my God, look at all that money I can earn' and they go off and do it.
"But if you take the money and run, you'll surround yourself with less good people and the work will decline. You've got to be playing at the top level to sustain it. That pushes your game.
"[Creatives] are abused and used by the industry. Who's the richest person in advertising? He's not a creative. Look at the other creative industries. Who's the richest person in architecture? It's not the accountant who works for Frank Gehry – it's Frank Gehry."
Hegarty adds: "The industry needs to remember that creatives are the real talent." In the past, he says, the top people were Bernbach, Millward, George Lois and David Abbott: "Now you go to Cannes and on stage are the heads of these big groups who've never had a fucking idea in their lives. We've allowed them to take over because they are good at the numbers. Then they eventually kill the business."
Sustaining a career
According to Hegarty, another reason sustaining a creative career is so difficult is the unique demands of creativity in advertising – that an idea is not repeatable. Unlike in industries such as music, where Sir Mick Jagger can still delight audiences with Jumpin' Jack Flash 48 years after it was written, advertising creatives have to come up with a new idea every day. Hegarty couldn't just roll out Levi's "Laundrette" again for another client.
He believes most creative people have a ten-year window when they produce their best work. So what can you do after that period? His advice is to stay connected: "Remain curious. Don't become a cynic – that's the death of creativity. Surround yourself with great people.
"You've got to have confidence and believe in yourself. If you don't have confidence, you will start doing ordinary things."
Instead of staring at screens all day, creatives need to seek out different stimuli, Hegarty suggests: "Creative people are ciphers for ideas and thoughts. They have to absorb all this stuff, then it comes back out and you reinterpret it. If you are not taking in that inspiration, then what are you reinterpreting?
"What are you doing that is going to make you different?"