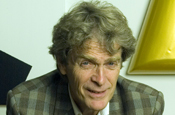 The installation of the Bartle Bogle Hegarty worldwide creative director as the president of the governing board coincides with the unveiling this week of an online service that provides access to some of the best TV advertising of the past three decades.

Haymarket, the publisher of Campaign, has a minority stake in the initiative, called Arrows, which will offer digitalised versions of all of the 25,000 ads entered for the British Television Advertising Awards since 1977.
The service, available at www.arrowsarchive.com, is the culmination of two years' work by HAT and its technical partner, ChilliBean.

HAT, which needs £250,000 a year to run its basic services, will draw half the profits from the service.

The charity, home to one of the world's largest advertising archives, hopes it will become a regular money-spinner and end an often haphazard fundraising system.

Most of the top 20 agencies have agreed to subscribe to the service.

"It will allow them to compile reels of commercials, store and edit them, and use them for meetings wherever there is access to a computer recognised by the system.

Barry Cox, HAT's chief executive, said: "This could potentially change the way agencies work."

Hegarty takes over the HAT presidency from Brian Nicholson, the former chairman of the Advertising Board of Finance, who steps down after eight years.

"John is exactly the right person to help raise our profile and help people understand the relevance of the HAT archive," Cox added.