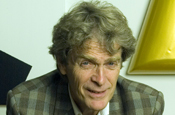 Hegarty, HAT's newly installed president, was speaking at the official launch of Arrows, which offers digitalised versions of all of the 25,000-plus ads entered for the British Television Advertising Awards since 1977.

The Bartle Bogle Hegarty worldwide creative director said it was easy the question the need for HAT in a business that was all about tomorrow.

But he declared: "The Arrows are a demonstration of what HAT is doing now."

The service, available on www.arrowsarchive.com, is being promoted to agencies as a vital source of material for internal reviews and creative meetings.
All the commercials are accompanied by full creative credits, and agencies can use the service to build their own tailor-made reels of work.

Barry Cox, HAT's chief executive, said: "This is a new way of sourcing inspirational work for all kinds of purposes."

The charity, which needs £250,000 a year to maintain its basic services, is also looking to market the service to schools, colleges and universities.

Agencies employing 50 people or less will pay £1,000 a year for the service, while those with more than 50 will be charged £2,000. IPA and ISBA members will be entitled to a £250 discount.