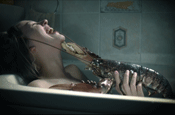 The brewing company is thought to be talking to agencies in London and Amsterdam about the future strategy of its advertising.

The review is in its early stages and sources indicate that Heineken is still considering a number of options, one of which is a full pitch for its global business, which was won by The Red Brick Road in July 2006.

The pitch is understood to be the result of pressure from Heineken's global marketing teams, which are unhappy with the current set-up.

They believe work would be easier to sell globally if the advertising was handled by a network with a global presence instead of an independent UK agency.

If the account is taken out of TRBR, it will be the third time the business has moved in three years.

The account moved to the London agency from StrawberryFrog in July 2006 after a two-month pitch process.

It is believed the pitch was called owing to ties between Sir Frank Lowe, the founder of the agency, and Charlene de Carvalho, the daughter of Freddie Heineken.

Lowe's ties with the Heineken family date back to the 70s, when he developed the iconic "Heineken refreshes the parts that other beers cannot reach" campaign.