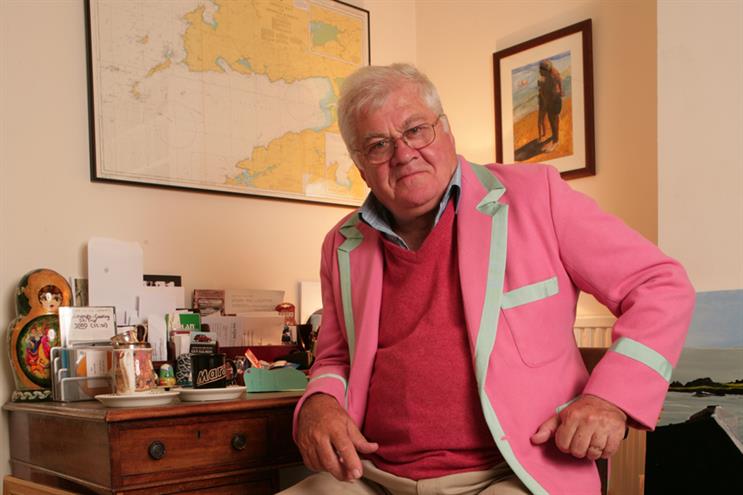 His family said he passed away on Monday after a short illness.
Simonds-Gooding will be remembered not only as the client who was brave enough to approve a campaign that changed the public's drinking habits when all the omens suggested it would fail. He has also earned a place in adland history as the Saatchi "enforcer", drafted in by the brothers to bring cohesion to their disparate agency global empire.
And when his days as an influential industry figure seemed over, he became the reforming chairman of D&AD, playing a vital role in dragging one of the industry's most esteemed institutions back from the financial abyss.
Born in Dublin into a military family, Simonds-Gooding joined Unilever as a marketing trainee after service in the Royal Navy. After 13 years as the Birds Eye marketing manager, he was hired by Whitbread, rising to become the group managing director.
At that time, Heineken was a minor brand in the Whitbread portfolio. The company held the UK licence but its sales were tiny with traditional ales accounting for more than 80% of the British beer market.
Simons-Gooding and Frank Lowe, then the Whitbread account man at Collett Dickenson Pearce, vowed to make "refreshment" synonymous with Heineken. The result was the "refreshes the parts other beers cannot reach" campaign.
The story goes that Lowe presented the line to Simonds-Gooding, having written it on an aircraft sick bag while the pair were on a flight to St Petersburg.
The proposed campaign did not research well. Some focus groups rejected the slogan as not "proper" beer advertising. Simons-Gooding, however, chose to follow his instincts.
Terry Lovelock, the creative who came up with the slogan, said later: "Without his guts and belief, a great piece of advertising would never have seen the light of day."
Simons-Gooding believed the best advertising was born out of mutual trust between client and agency. This was the result of his early days as a Unilever trainee when he was seconded to Lintas, then the company's in-house agency, to learn about advertising and to meet Lowe, then a Lintas account executive, for the first time.
His management style won him much respect. So much so that when it was announced in June 1985 that he was leaving to become the Saatchis' trouble-shooter, £45m was wiped off the value of Whitbread's shares.
Simonds-Gooding came to admire and like the brothers. But he knew he would always be seen as the man sent to clean up the mess created by their buying spree.
He later membered his first day in the brothers' employ – a dark and dingy office, no files and no secretary. Just flowers from the holidaying Maurice and Charles with a card that said: "Welcome Anthony. Over to you".
Lord Saatchi told Campaign that the appointment of Simonds-Gooding marked a turning point in the professional management at the former Saatchi & Saatchi group.
He recalled what happened when he asked him if I would go to New York to run he group's US operations.
"One day I rang him at the office and asked 'What exactly do you do?' He said: 'You wouldn't be interested'. I said: 'Try me'. He said: 'The dull fodder of management'. To which I replied: 'You're right'."
Very soon Simonds-Gooding realised that his pressurised lifestyle – including helping to orchestrate the Saatchi group's fateful purchase of Ted Bates – was unsustainable. In 1988, he accepted the leadership of British Satellite Broadcasting, a private consortium that planned to put a satellite into orbit to compete with the then fledgling Sky.
By the early 90s he had taken a number of non-executive directorships when he was invited by Tim Delaney, D&AD's incoming president, to pull the organisation out of the financial mire. Delaney had instituted a restructuring of the charity after serious anomalies in its finances had been uncovered.
Few doubt that Simonds-Gooding's reforms during his 18-year presidency that ended in 2010, set D&AD on the path to recovery and restored its reputation.
Tim Lindsay, D&AD chief executive, said: "It's no exaggeration to say that D&AD wouldn't be around today if it wasn't for Anthony. His background as a great client gave him enormous credibility and he's remembered here with much affection and respect."
Simonds-Gooding is survived by his wife, Marjorie, six children and a stepson and 12 grandchildren. Funeral details have yet to be announced.