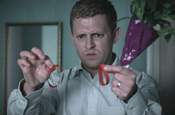 The ad, which features an amorous lobster and a comedic French voiceover by Alistair McGowan, is The Red Brick Road's first TV campaign outside of Tesco since the agency launched in March 2006.

It opens with an English couple about to order their meal in a French restaurant. The Englishman is presented face-to-face with a live lobster, which he eyes reluctantly. In true continental style, he is advised to imagine coming home one evening to find the crustacean entertaining his girlfriend in a soapy bath. On doing so, his mindset changes, and he eagerly prepares to tuck in.

The ad will appear on national television, cinema and video on demand from June 6, supported by a number of initiatives in pubs that aim to position Heineken as a more European brand, including providing oversized glasses with a larger continental head. It was written and art directed by Vince Squibb and produced by Johnnie Frankel at Rattling Stick.