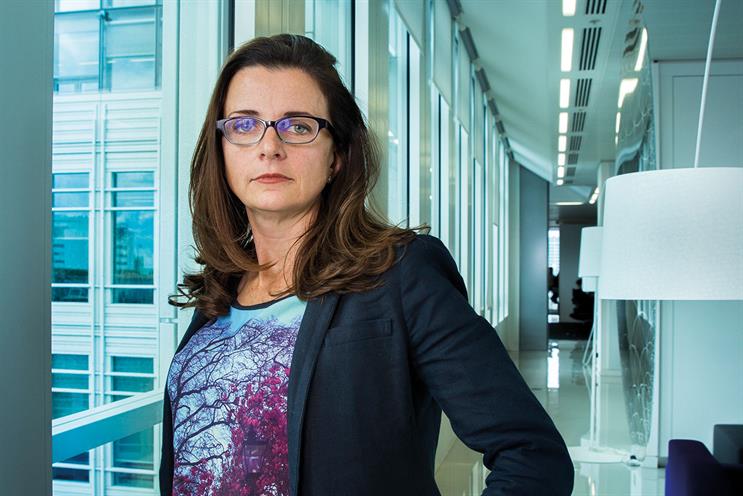 Helen McRae is an Australian with a "sort of pseudo American accent". A client turned media account director who has worked on every continent bar Antarctica and speaks fluent Korean, Thai and French.
But now the jet-setter has landed one of the biggest jobs in British media as the chief executive of Mindshare UK.
McRae, a former Mindshare EMEA boss, takes the helm at a critical juncture for the agency. She replaces Mark Creighton, who left in April after just over two years in the hot seat to join its rival Dentsu Aegis Network as its chief operating officer.
Few doubt Creighton moved Mindshare significantly along its journey from an old-fashioned buyer to a future-facing business rooted in data, content and technology. McRae says the challenge is to build on these foundations and bring the opportunities of the tech-driven media world to life.
But does she have the grit and local nous needed to run a UK agency after a lifetime on the run? We're yet to find out, but she is raring to go. "You'd be nuts not to want the job," she says. "It is really a fantastic job – the UK is arguably one of the most sophisticated media markets in the world."
She joined Mindshare in 2004 after working in banking and education, and in marketing at DHL's Belgian headquarters. She led the global Unilever account before assuming joint responsibility for Mindshare EMEA.
After Creighton's departure, McRae stepped in as the interim chief executive while the agency conducted its search. She spoke to "both Nicks" – Mindshare's global chief executive, Nick Emery, and Nick Theakstone, the UK head of the buying point, Group M – and threw her hat in the ring for the job.
McRae believes she was chosen for her experience as an ex-client and from years of working with big accounts such as Unilever: "A lot of what we need with new business is to very clearly understand what clients need and to be able to push them and help them grow and expand."
Her regional experience also gives her insight into what's going on across different parts of Mindshare, which she can apply to the UK.
"In a regional role, you kind of float across the top. You see lots of great work – but you are not actually directly connected to it," McRae explains. "There is something deeply satisfying about seeing the stuff you have participated in and contributed to. You see it actually come to life."
So how much of a blow is Creighton's exit? She calls the departure "unfortunate" but insists there was no "cult of Mark" at the agency. Its progress along the learning curve has also been driven by the management team, which comprises: the chief strategy officer, Matt Andrews; the client officer, Nick Ashley; the chief operating officer, Paul Rowlinson; and the chief business officer, David Walsh.
McRae points to "feel Wimbledon" for Jaguar Land Rover as an example of Mindshare UK's forward-thinking approach. The agency put biometric sensors all over this year's tournament – even as wearables on members of the crowd – to gauge spectator sentiment.
The campaign made use of Mindshare's "The Loop" – a network of 22 data war rooms that analyse data from all kinds of sources.
"Five or six agencies using The Loop in real time, for me, showed all the stuff Mark put into place: the vision, the building blocks the team have embraced," McRae says. "My job is to push that further."
She cites work for Three, Warburtons and Britain's Beer Alliance, which also used The Loop, as further evidence of the agency's creativity. "I fully expect Campaign to award us with a nine this year," McRae says, hopefully, of the School Reports. She defends media agencies' creative prowess but adds: "We still buy spots and space at the end of the day. Let's not kid ourselves, that is still a very important part of our business."
New business will be coming in thick and fast, McRae claims, adding to this year's wins of Facebook, Legal & General and Evans Cycles. But one review that could have ramifications is Unilever's £3 billion global account, with the result expected soon.
While a female chief executive is still something to note in many media companies, in agencies it is a well-trodden path. McRae points out that Mindshare's first UK chief was Mandy Pooler and women run numerous Mindshare operations around the world. "My experience in this industry has never been one where I have seen sexism," she states. "And let's be clear: if I ever did encounter it, there would be trouble."
So how did that accent come about? McRae moved to California from Australia aged four. She left the US after graduating from university and has never had any desire to return. Instead, she worked in Asia and Europe.
She has lived in London since joining Mindshare in 2004, with a busy interna-tional travel schedule. But by taking the top job at Mindshare UK, she'll be spending more time on the Tube than on planes. You could say that McRae has finally landed.