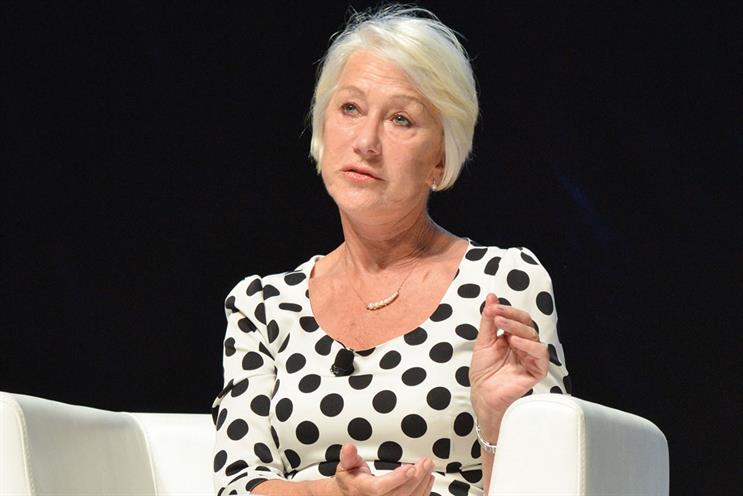 Dame Helen Mirren "aspires" to be an artist. "I often feel I'm failing and should've been a suffering, struggling artist," the Oscar-winning actress says, reflecting on her success. But this is the woman who has conquered it all – the stage, TV, film and even sexist interviews (she famously called out Sir Michael Parkinson in a 1975 appearance on his show), has portrayed the Queen twice (on stage and film) and, at 71, remains a global star.
"I often feel I've lost my way in my aspiration to be an artist. Of course, it's wonderful to have success, and the thing I love most about it is economic freedom," Mirren says. "Coming from a background where there was no money – and if you didn't work, there was nothing to live on – to have bought my own house and to have never been in debt or on welfare is something I feel proud of. But there's a part of me that thinks I should've been a struggling artist."
Mirren, who spoke to Campaign in Cannes, where she appeared on a L'Oréal panel, explains it isn't the romantic notion of a being a struggling artist that is appealing – it's about the "truthful quality of art, about where art should sit in our culture".
So does she think she has sold out? "Yes, I do, in many ways. But, I may add, quite blissfully and happily. I'm not going 'Oh my god, I've sold out', but 'Yeah, I've sold out'," she says in full Hollywood mode – the dramatic use of voice and hands, and that almost-regal expression. In fact, she enjoys playing roles, such as one in The Fate of the Furious, that lead to critics accusing her of selling out. "People think I must've been paid millions for it, but I was hardly paid anything for doing it," she says. "I did it for the fun."
She enjoys giving people a good night out at the cinema, hence the aforementioned The Fate of the Furious, but she can't imagine being the next James Bond: "I'm too old. In my youth, that would've been great, of course. But that time was different; we could never even have imagined a woman playing that role. I think it [a woman playing James Bond] probably won't happen, but the fact it is being contemplated is a massive step forward."
And Mirren remains "pissed off" about how women are portrayed both in films and, indeed, advertising. "It used to drive me crazy that the ads promoting skin products were using pictures of 15- or 16-year-old girls. As a 30-year-old, I used to look at that and think: what the fuck are you talking about? It was ridiculous. Pissed me off majorly," she explains. "Advertisers are only just coming out of that, and it's taken them a long time."
As a L'Oréal brand ambassador, Mirren is part of the generation of women trying to redefine beauty. But she appears genuinely horrified at the thought that her attempt to celebrate women for who they are, or behave as they want to behave, could be seen as setting standards for other women who might not want the same thing for themselves. "I'm not setting standards for others. All I can do is be who I am. I've always loved make-up," she says. "I'm an eternal optimist – I know that when I put my moisturiser on it probably does fuck all, but it just makes me feel better. I've always said to L'Oréal as well that I will only do what makes me feel better." Mirren has notably demanded that L'Oréal never retouches images of her.
Earlier this year, she launched L'Oréal's "All worth it" campaign, in association with The Prince's Trust, to help people suffering from self-doubt to discover self-worth. That said, at its core, she believes, self-doubt can be a force that helps drive us forward. "If you have got a creative mind, insecurity is part of the necessary process," Mirren says. "Creativity doesn't come out of confidence. It comes out of a questioning towards life in general. Maybe it's this quality that drives creativity."

Ad by McCann London
On the topic of creativity in advertising, she makes the following observation: "Advertising works on so many different levels. It can be pure entertainment, like my favourite Hamlet cigar ads, or an extraordinary form of art that produces arresting images like the Guinness ads from the past, or the spectacular Apple ad with the girl sprinting while wielding a hammer.
"But advertising can't just be about an extraordinary memorable image; it has to be about making people feel better about themselves or trying to do some sort of social good."
And Mirren offers this advice to people on how to do good: "People keep looking at me for advice of all sorts. I don't know. I have no idea. My advice is be on time and don't be an arsehole. Grab your opportunities when they come with both hands, give it your all and then fake it."