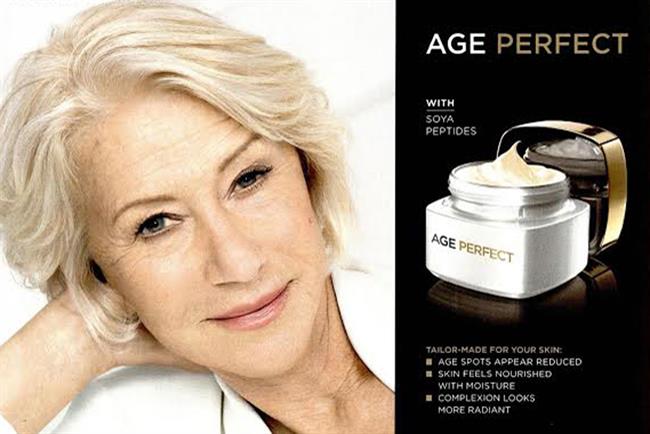 The Advertising Standards Authority has today quashed a complaint about TV and press ads for L'Oréal's Paris Age Perfect product, both of which featured the Oscar-winning movie actress who starred in The Queen.
The press ad displayed an image of Mirren with a quote from her saying, "Age is just a number and maths was never my thing!"
The "age perfect" TV spot, created by McCann London, broke on TV and online in February. It featured the 69-year-old actress being offered a seat at a bus stop and looking unhappy.
Mirren's voice-over that went on to say, "Nourish and indulge your skin and show those age spots who's boss. Grow another year bolder. Look and feel more radiant. Our perfect age is now."
There were then several close-ups of Mirren's face and towards the end of the ad she was then shown dressed in a leather jacket and wearing make-up, while glancing at a younger man.
One person complained that her face had been altered on screen using post-production techniques to make the lines around her mouth look smoother; thereby exaggerating the likely effect of the product for consumers.
L'Oréal disputed the claim and produced signed affidavits stating that no post-production changes were made to Mirren's face.
The cosmetic brand said the lines around her mouth were consistent in both the ads and in photographs from her recent appearances at red carpet events.
In its ruling today, the ASA said: "We noted that wrinkles were clearly visible on Ms Mirren's face in both ads, including across her forehead and around her mouth.
"We considered that the recent press images of Ms Mirren would have reflected a similar degree of professional styling and make-up as the images in the ad, without any post-production amendments, and that her appearance in the ads was comparable to those more candid images.
"We therefore considered that the ads had not altered Ms Mirren's appearance in a way that would exaggerate the likely effect that could be achieved by consumers' use of the product, and concluded that the ads were not misleading."
This article was first published on www.campaignlive.co.uk
---
Recommended