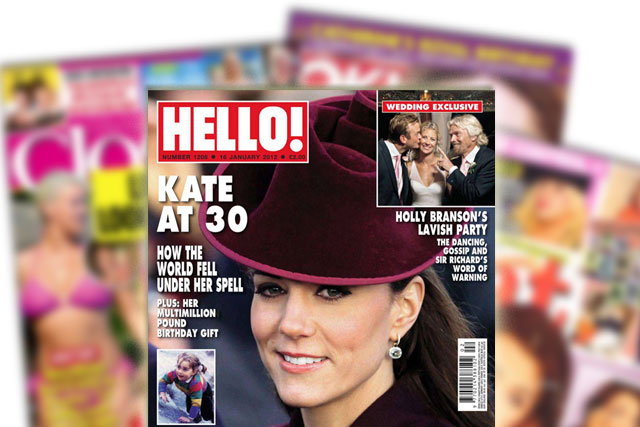 Charlotte Stockting, publishing director of Hello!, has written to media buyers and analysts this week declaring she is "delighted to announce" that, from now on, the weekly magazine with a cover price of £2, will no longer be found in the Audit Bureau of Circulations 'Celebrity' sector, but instead grouped within 'Women's Lifestyle & Fashion'.

The move is said to "better reflect the core editorial attributes of Hello!", with its "upmarket editorial, strong lifestyle content, stunning photography and excellent print production".
In addition, Stockting stressed the publisher's desire to distance itself from today's celebrity sector, which it helped create when it first entered the UK market in May 1988.
Stockting said: "It also reflects a move away from the celebrity sector, and its obsession with made-up stories, scurrilous gossip, poor production values, real-life stories and low cover price."
The publisher intends to compete "more visibily and vigorously" with the lifestyle sector, which incorporates weeklies like Bauer Media's Grazia and Shortlist Media's Stylist, as well as monthlies such as Conde Nast's Glamour, IPC's Marie Claire and Hearst's Red magazine.
The lifestyle titles are said to compete at a similar price-point and on similar editorial values to Hello!, which is the UK edition of the 68 year-old Spanish weekly, Hola!
Stockting has led Hello!'s commercial operations for the past 12 years and has repeatedly sought to differentiate the magazine - which began life as a family title for Spanish royalty - as less "mass market" than rivals, like Richard Desmond's Northern & Shell-owned OK!, which launched in 1993.
Building on 68 years of publishing heritage
The original celebrity weekly has stayed true to the optimistic and celebratory roots of Hola!'s founder, Antonio Sánchez Gómez, with positive editorial coverage that has formed the backbone to 13 international editions in five different languages.
Its repositioning in the UK promises to hold more significance than merely a classification change with the auditors, with it expected to have a notable impact on newsstands too.
Stockting said: "As well as working with ABC on this move, the success of Hello!'s sector move has depended greatly on the full support of the news trade, particularly at retail level.

"Women's weekly and monthly titles sit alongside one another on the newsstand and, as a result of this move, Hello! will now sit between monthlies and weeklies, such as Grazia, rather than alongside the downmarket weekly celebrity titles.

"This is a fundamental, important and strategic shift to the placement of Hello! magazine in the minds of our many publics: news trade, advertisers, clients and - most importantly - our loyal readers."
Hello!'s bid to move away from the world of celebrity, and all that is associated with it, comes amid ongoing declines in UK copy sales throughout the highly competitive sector.
In a marketplace known for its "me too" variations and picture-led journalism, there were double-digit annual sales drops for six of the leading seven celebrity titles in last month's ABCs.
Among the biggest fallers was a near 30% circulation slump for Northern & Shell's Star (288,533), a 25% loss for sibling OK! (355,969), and a 15% fall for Hello! (352,985).
Gaby Cornish, activation account director at MediaVest, told Media Week: "The celebrity sector has clearly had a disappointing round-up, and it is apparent that appetite for these kinds of titles and their content is on the wane from two, three, four years ago.
"Add to this the fact that the female main purchasers who normally throw a copy into their basket without considering it, have now had to rein in their expenses and make more of a considered buy - the result of which is negative on copy sales - especially when the content is readily available online."
The jury is out on whether Hello!'s new positioning will be embraced by readers and media buyers alike, but August coverlines featuring Spice Girl's Geri Halliwell "looking for love" and Girls Aloud's Sarah Harding on "drinking too much", suggest it could be a work in progress.
Follow @DurraniMix