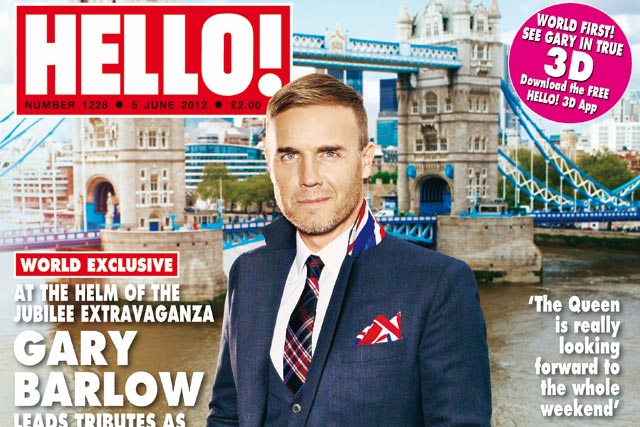 The app creates a "sculptural" 3D photograph of Barlow that can be viewed from any angle.
It was developed for Hello! by Digicave with Timeslice Films, which photographed Barlow with 42 Nikon DSLR cameras.
The app uses Qualcomm's augmented Reality platform, Vuforia.
Rosie Nixon, editor of Hello!, said: "This type of sculptural photography is set to revolutionise the publishing world and I am thrilled that Hello! is at the cutting-edge and leading the way.
"I hope our readers will enjoy this added bonus with Hello! this week – the opportunity to get up close with our cover star Gary Barlow, happy and glorious as if on the Buckingham Palace balcony in true 3D."
Callum Rex Reid, chief executive officer of Digicave, said: "Digicave and Timeslice Films are proud to introduce a first in media content creation.
"A milestone in mass 'televisual' experience was the coronation of the Queen. The milestone for sculptural photography is at the time of her Diamond Jubilee."
The issue featuring Barlow is out now.
Follow Nick Batten on Twitter @NickBatten2