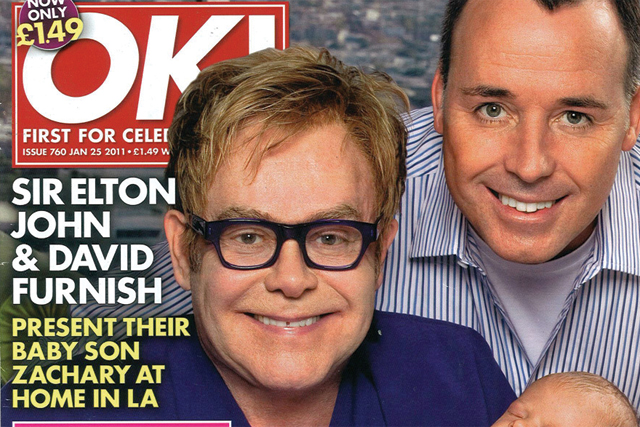 In an ebullient mood after discovering Hello had outperformed the celebrity market, Stockting told Media Week: "It's a battle out there... It's wonderful to see OK! doing so badly for once. It hasn't had a bad time for quite a long time and it must be quite a shock for them."
Comparing the second half of 2010 with the same period a year earlier, Hello's circulation was down 0.8% to 405,608 while OK!'s was down 23.4% to 498,683.
Hello's best-selling issue during the period was not November's souvenir edition of Prince William and Kate Middleton's engagement but the world exclusive 6 August issue marking Robbie Williams' wedding to Ayda Field.
Stockting said: "What we've worked very hard to do is make sure every issue hits hard, not just have these massive peaks and troughs – which we will have this year for example.
"The Royal Wedding is going to be a massive peak for us and it's actually quite difficult to manage year on year. When agencies are only geared up to looking at year on year rather than trends it gets a bit vicious when you get something that is a huge spike.
"What we've tried to do is manage the circulation so you're not printing copies that you can't sell ... last year we got the balance right and we didn't realise how good it was until we see the figures now in comparison with the rest of the market."
Stockting took the chance to reopen hostilities with Hello's great rival by claiming OK!'s loss of circulation in 2010 was the reason behind Northern & Shell's decision to cut OK!'s cover price indefinitely from £2.60 to £1.45 in January.

She said: "OK! on its own is not a proposition that consumers flock to anymore. All over their own newspapers at Northern & Shell it's a pound off OK! Magazine. It's only £1.49 at the moment. Selling a magazine for 49p is kind of easy meat isn't it?
"Given this magazine used to sell independently at £2.50 not that long ago, I think that is a Harvard Review marketing disaster – how not to develop your brand.
"It's a very unusual mistake for Northern & Shell to make."
Stockting was careful to underline her respect for the company despite her criticism. She said: "I'm still not underestimating them in any way shape or form. They will pull it back out of the bag. There's no doubt Richard will not let this fail."
OK! still substantially outsells Hello by one and a half times at the newsstand – 444,707 copies to 279,148 copies.
Hello! distributed an average of 70,000 bulk copies at less than 10% of its basic cover price, which finished the period at £2. OK!'s equivalent figure was zero.
But OK! resorted to more multipacking, bundling copies with New!, Star and OK! USA 19 times during the second half of 2010. The number of copies multipacked varied between 215,022 and 486,418.

Hello! was multipacked nine times during the period with other publishers titles such as Reveal, Look and Harper's Bazaar. The number of copies multipacked varied between 6,732 and 132,288.

OK! declined to comment.