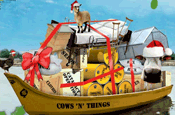 The charity wants to use the site to attract revenue during the run-up to Christmas, and TDA has been briefed with attracting increased traffic and new donors.

The campaign, which will run from early November, will incorporate email and online display advertising plus paid and natural search activity.

Heather Westgate, chief executive of TDA, said: "The marketplace for ethical gifts has become increasingly crowded and competitive, but we are confident that our tailored online direct marketing strategy will revitalise its performance and drive increased volumes of potential donors to the site."