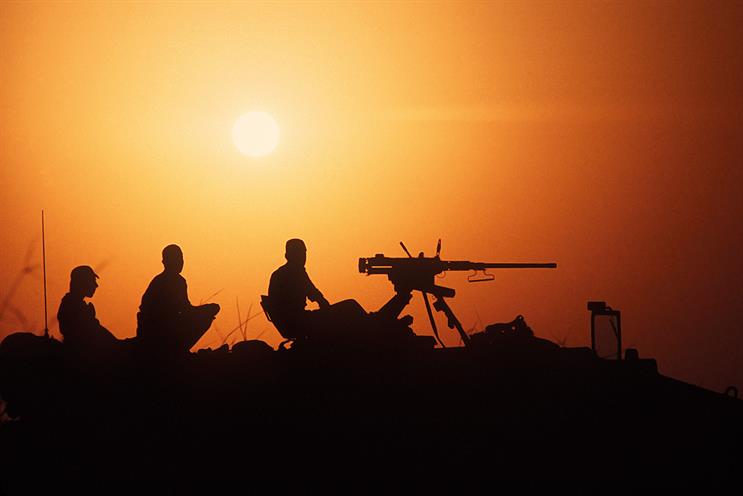 Alex van Gestel ought to know about military-style tactics and psychological warfare. When he started in advertising in the early 90s, the Oxford graduate worked as an aide to WPP's boss, Sir Martin Sorrell, in his "war room" on Farm Street in Mayfair.
But now van Gestel is working with real battlefield veterans as the chief executive of Verbalisation, the strategic marketing consultancy he joined this month. The Whitehall-based company was founded four years ago by Sven Hughes, a former army reservist who specialised in psychological operations in Afghanistan.
The 30-strong team includes ex-military personnel, psychologists, neuroscientists and political campaigners, as well as ad creatives.
Verbalisation says that it can change behaviour with "precision-engineered language" and "radical logic", and its clients range from the Financial Times and News UK to the anti-terror group Quilliam.
The consultancy claims to have helped the FT dramatically increase the number of Weekend subscriptions at the best rate in its 127-year his­tory, while Quilliam has won acclaim for NotAnotherBrother, an anti-Islamic State video campaign that has had 50,000 views.
"We call it a battle of words," van Gestel, who was most recently the global communications director at Bacardi and previously led Cheil in the US, says.
"We get to those words that resonate, whether subliminally or overtly," he explains. "That informs the message. It's about having a laser-like understanding of the psychology of the audience – not just the demographics. We get under the skin and the psyche of what people are all about. Then you can identify the lenses to deploy in order to create emotional bonds with these people."
Van Gestel describes the process as "decode, then encode" using Verbalisation's software, Rapid Audience Insight Dynamics (Raid).
In the case of FT Weekend, that meant tweaking the brand message, its editorial style and content, and even the design of the app, van Gestel says. Whether such thinking lay behind FT Weekend's decision to hire the ex-Newsnight Rottweiler, Jeremy Paxman, as a contributing editor last year isn't clear, but it marked a change in style.
Verbalisation likes to quote the old saw "half the money I spend on advertising is wasted; the trouble is I don't know which half" as proof that the industry is ripe for change. "Losing 50 per cent of investment and resources on the battlefield is unacceptable," van Gestel says.
"Advertising is an industry of artisan types, and we're applying data, science, game theory, military intelligence and political campaigning. We're not in this servile relationship, where it's 'Do you like this colour?', 'Do you like this picture?'. Having gone through Raid, it's: 'This is what we know.'
"We're not an ad agency but we can do ads; we're not a research company but we can do research; we're not a PR agency but we can do PR; we're not a media company but we can do comms strategy. Often, we're not sure if it's a marketing answer or a marketing problem."
However, when marketing is the answer, van Gestel sees opportunities for Verbalisation to get more involved "downstream" in creating ads and content for brands and buying media.