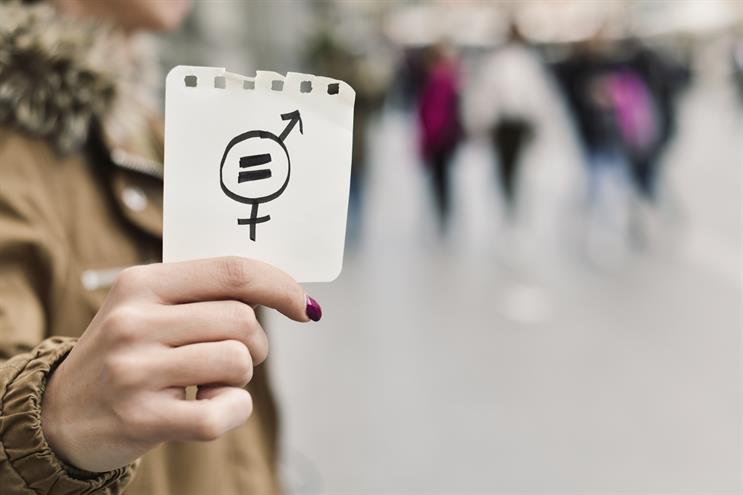 The theme for this year's International Women's Day is clear: Do. Actually do something about equality: implement flex-work so women aren't penalized for having children, change agency structure so more are offered the same opportunities as men, fire those who don't believe in this. Hashtags and token speeches were for 2017—now is the time for action.
It's clear that agencies and brands are doing more in 2018 as conversations around inclusion (and basic human dignity) continue to dominate the industry, with flames fanned by the #MeToo movement.
Here's how some of them are celebrating International Women's Day:
Momentum Worldwide
Flex work initiatives launch today. It comes after an internal survey revealed that 83 percent of respondents would leave the ad industry if they couldn't find work-life balance, and 40 percent admitting they'd head for the nearest exit without another job lined up.
"Our industry is losing too many talented people to unreasonable demands that put unnecessary strain on families," said Donnalyn Smith, North American president at Momentum. "As a mother of three, I'm proud of the new policies we're initiating and look forward to working with all our staff on putting them into practice."
---
The Martin Agency
The IPG shop has doubled the representation of female leaders on its executive committee. "Gender discrimination isn't an HR issue, it's a culture issue," said Kristen Cavallo, chief executive officer at the agency. "And the fastest way to change a culture is to level the playing field in leadership. I'm proud of this news. But we're not done. Not by a long shot. We're not diverse enough. We see it. We're on it."
---
McDonald's
Ronald McDonald is quite literally flipping the script today. The fast-food chain has turned the golden arches upside-down at a store in Lynwood, California. The message will play out on McDonald's digital channels. Additionally, customers will be able to get their hands on International Women's Day merch and packaging.
"The whole team is honored to help bring the idea to life," said Toygar Bazarkaya, Chief Creative Officer of We Are Unlimited. "On this day this is an amazing way to celebrate the women of McDonald's, both present and past, whose contributions have made the company what it is today."
---
Sense
The New York-based agency has created a series of eight striking illustrations featuring women the team feel made great strides in 2017, and who motivated them during their first year of business—women who are changing the world through their unapologetic presence and self-expression.
"These women come from all genres and walks of life—from art to activism and everything in between," said president Sarah Priestman. "They are the women we think of when we need a boost, or when we wonder how to tackle a challenge. They are an imaginary extension of our team, and help us through the example they set, to work in a way that enables women to thrive."
---
June Cleaver is Dead
Welcome to WONGDOODY's newest arm, entirely devoted to motherhood. It was founded by moms of the Cannes-winning creative agency, Skyler Mattson and Pam Fujimoto. Its aim is to paint a more nuanced image of the modern mom for brands, prompting a call-to-action for marketers to go more than surface-deep, and tear up the strategy book.
For this agency, targeting a 1950s housewife (which is where the name comes from) is punishable by death. They've already launched the #IPumpedHere campaign for MomRising to drive awareness of the lack of clean and legal places for moms to pump.
---
Bumble
The dating app has teamed up with UrbanSteams to offer designer bouquets, with $5 of every purchase going to Women for Women International. "Bumble was created to give women opportunities to make empowered connections in dating, friendship and business, which is why our UrbanStems partnership benefitting Women for Women International is incredibly important to our team," said Sarah Sawaf, strategic partnerships manager for Bumble.
"We hope women use these beautiful bouquets to celebrate each other this month, because they will not only brighten the recipient's day, but they will also help raise money for women across the globe."
Did you know that compliments make the best first move? If you don't know how to start the convo towards a new friendship, compliment their travel photo or send them a sweet GIF! Make their day! ?? pic.twitter.com/womRcLy7nb

— Bumble (@bumble) March 6, 2018
---
Ogilvy
The agency has brought its global network together in a bid to inspire younger generations. Ogilvy's most influential female leaders from around the world are lending their collective voices to share their experiences and advice. They're offering up powerful quotes to put fire in the bellies of their successors, and a guide to being heard in male-dominated environments. New York's Angela Fung, for example, is telling women to "go ahead and sit in a position of power at the table" when in a man-heavy meeting.
---
Words With Friends
The popular app game is featuring some heroic female faces in its Solo Series. Players can choose their skill level and play along with iconic figures including: Harriet Tubman (African-American abolitionist, humanitarian and underground railroad conductor); Joan of Arc (heroine of France during the Hundred Years of War); Elizabeth the First (the last monarch of the House of Tudor); Hua Mulan (legendary Chinese warrior) and Mary Wollstonecraft (English writer, philosopher and advocate for women's rights).
We've had #Fenty on the brain. Check out our word of the day. ?? pic.twitter.com/t4QDXWEL5y

— Words With Friends (@WordsWFriends) February 15, 2018
---
Rauxa
The largest women-owned ad agency in the US is asking employees to bring in a picture of a woman in their life that has made a personal impact. Movies starring powerful female leads and storylines will also be playing all day in the agency's main lobby as part of the celebration.
---
Berlin Cameron
The creative agency and its new division, Girl Brands Do It Better, are hosting an event led by agency president Jennifer DaSilva called "When Women Lift Each Other, We All Rise." It's in partnership with Y&R and Ellevate Network. The event will include speeches from Polly Rodriguez, the CEO and co-founder of luxury sex toy brand Unbound and Meg He, co-founder of technical clothing staples ADAY.
Shopping w/ female owned businesses is tinkerbelling-in-reverse. Instead of dropping dead that woman FLIES every time you place an order (bc U BETTER BELIEVE she is out there watching that @Shopify app like a damn hawk) pic.twitter.com/wKiplVo9Xt

— Polly Rodriguez (@polly_claire) March 3, 2018
---
B-Reel
The agency will be hosting a site takeover. B-Reel.com visitors will be met with a prompt to donate money to Women for Women International in the name of a woman who has had a powerful impact on their life. Donations enable a custom email card that'll be sent to their hero.