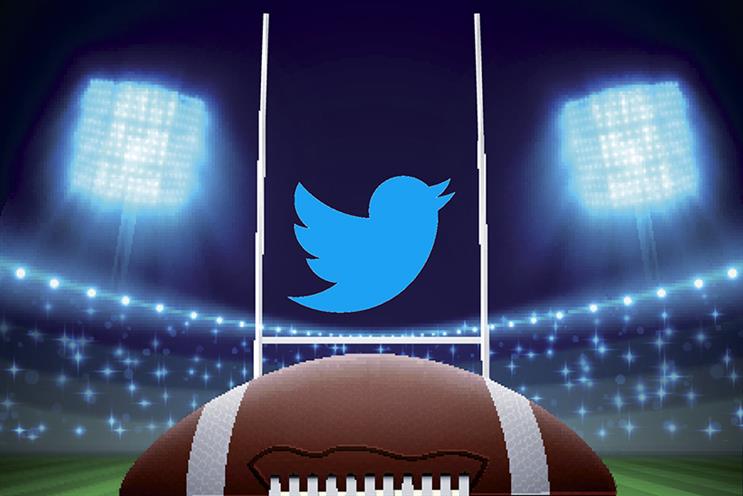 With just days to go before the Super Bowl, brands are gearing up to make the most of creative they've spent months (and in some cases, millions of dollars) planning. Fans are already starting the conversation around advertising's biggest day, and they're doing it on the preferred platform of real-time analysis: Twitter.
"What Twitter provides a brand for the Super Bowl is an opportunity: everyone is watching the same thing and commenting on Twitter about the game or the ads," said Ryan Oliver, Twitter's head of brand strategy. "A brand can really take advantage of that engaged audience."
Oliver's team works closely with brands throughout the year on their Twitter strategy for big events, and since the Super Bowl is the biggest single day on the platform, the team is in constant contact with big brands. This year, they're hosting several at Twitter HQ in San Francisco and in the company's New York office.
A Twitter team is also headed to Kansas City to help Sprint with their campaign day-of. "As much as [brands would] like us to be involved with consulting and being there with them in the trenches, we'll do that across the board," Oliver said. A handful of heavyweights, including Pepsi, took advantage of Twitter's Insiders program, which gives brands access to a group of select Twitter users for focus-testing creative.
For brands who aren't working directly with Twitter, Oliver still has some advice about how to use the platform—and which trends to look out for this year.
Last year, Twitter saw an uptick in brands staking a claim, either politically or in relation to their brand identity—a trend Oliver expect to continue this year. Another important strategy: getting the most Twitter mileage out of content created for other platforms, like tweet-friendly versions of 30-second spots aired during the game. "I wouldn't be surprised to see more short-form content on Twitter on Sunday," Oliver said.
Of course, his team is most interested in brands that use Twitter's unique capabilities to make a Big Game splash—"the scrappy campaigns," he said. Companies with established identities, like KFC, can build on their personas during the game. But the platform is particularly useful for companies that choose not to plunk down for an actual spot and instead focus their whole strategy on tweets, as Esurance did in 2016. Through a sweepstakes promotion, the insurance firm generated over 1.5 billion impressions and was the most popular ad-based hashtag of the year—all without airing any in-game creative or partnering with the NFL.
Brands should also be in position to take advantage of any unexpected viral moments. Oliver still thinks about Oreo's Dunking in the Dark stunt five years ago, when the cookie maker turned a power outage during the game into a winning strategy for dominating the conversation. But it requires a lot of planning—"you need to be planning months in advance and have the right content that will support your brand," Oliver said.
And, indeed, Oreo had an on-site team of copywriters and strategists during the game, ready to turn surprise into success in a matter of minutes. "When that spontaneous moment comes, you can do it, but it can't be the focus of your strategy because you don't know if that moment is going to happen at all," said Oliver.
This year, there's another incentive beyond consumer engagement for good Twitter strategy: the platform is introducing the #BrandBowl52, a competition for four awards recognizing the brands whose Super Bowl activations got the most engagements and retweets. #MVP goes to the brand that snags the highest percentage overall of brand-related tweets; #Blitz for the most tweets per minute; #QuarterBack for the single most-retweeted tweet; and #Interception for the strongest conversation around a brand without an in-game spot.
"The Super Bowl is the most-tweeted TV sports event of the year," Oliver said, with nearly 27 million tweets about it globally, "and this is going to be our best year yet."