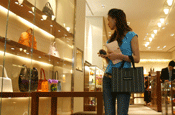 The business is handled by Vizeum, but Hermes has approached at least two other networks, with the process well under way. Vizeum will not repitch.
Recent press activity in the UK has been used to support Hermes' women's fashion range and its watches.
Hermes, best known for its scarves, makes products in 14 categories, including leather, menswear and women's clothing.
Founded in 1837, Hermes is currently midway through a programme of rapid international expansion that includes opening new boutiques in the US and Asia, with a particular focus on China.