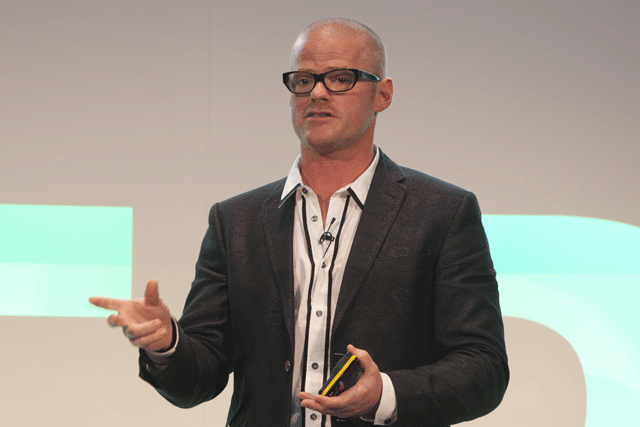 Britain boasts some of the best brands in the world, but unless the brand owners address some fundamental issues, they will fall by the wayside in the face of emerging markets, which are bursting with creativity and confidence. That was the call to arms issued to the creme de la creme of the marketing industry at The Marketing Society's annual conference.
The shadow of George Osborne's gloomy Autumn Statement cast a pall over proceedings as the speakers attempted to ignite passion among the delegates, with Diageo marketing director Andy Fennell raging against the no-risk culture pervading the domestic marketing industry.
Fennell's sentiments were backed up by his co-speakers, who argued that it is not too late for Britain to take the fight to upstart emerging markets.
'We are allowing our global status as a country and economy to wither,' warned International Airlines Group (IAG) chief executive Willie Walsh.
The bad news didn't end there, as Rita Clifton, chairman of Interbrand, pointed out that only four UK names featured in Interbrand's top 100 brands. In comparison, France had seven on the list, despite having an economy of a similar size.
With Unilever chief marketing officer Keith Weed revealing that the next 1000 marketers the company employs will be in Asia, you could be forgiven for thinking it was a day of dwelling on economic woes.
However, the theme of global leadership was embedded as the main take-out for the day. This country might be on the brink of another, harsher recession, but UK companies must search out opportunities at home and overseas to maintain their positions as global leaders.
Celebrity chef Heston Blumenthal provided some inspiration as he closed the conference (see Q&A below). The ex-photocopier salesman-turned-internationally acclaimed restaurateur is living proof that Britain can lead the way in truly creative innovation.
Here, we distil some of the key messages from the conference, delivered by an eclectic mix of speakers.
ANDY FENNELL 'NO GOLDEN ERA OF ADVERTISING FOR THE UK'
Andy Fennell, chief marketing officer at Diageo, issued a rallying cry to British marketers, calling on them to cast off the shackles of conservatism - brought about by the dire economic times - and embrace creativity and risk.
In a candid interview with the BBC's Nick Higham, Fennell revealed his annoyance that the UK's showing in the Gunn Report had worsened over the years, and reiterated his belief that the 'golden era' for advertising may happen in the emerging markets, but not here.
'There is a drift of creativity toward the emerging markets. As a global CMO I am agnostic, but as a Brit it really pisses me off,' he said.
'It is human nature that when times are tough people become more cautious, but we must try to overcome that and find courage to be bold and take risks,' he added.
Procurement departments, he opined, following a question from the floor, had to understand the value of genius. 'Genius delivers disproportionate economic returns,' he contended.
Asked by Higham to name a mistake he had made, Fennell recalled the launch of the now obsolete alcoholic fermented fruit drink Quinn's, which launched on the back of a £6m marketing budget in 2006, but was pulled a year later after poor sales.
He summed up his philosophy on the failure by saying: 'The money lost won't break us, but the experience we gain might make us.'
KEITH WEED 'FOCUS ON FORESIGHT, NOT INSIGHT'
Unilever chief marketing officer Keith Weed unveiled five key points that marketers must grasp to succeed in challenging times, reaffirming his sustainability commitment.
1. The traditional tools of marketing do not help in developing sustainable messaging 'We need to focus on foresight rather than insight,' said Weed, who pointed to the example of Steve Jobs. 'He hated focus groups. Instead, he imagined the future and created devices for that future.'
2. Sustainability needs to be embedded into the business, not an add-on 'We have stopped quarterly reporting in our organisation - it is all about driving long-term change.' Weed explained that Unilever does not have a CSR department, because that would suggest it was an after-thought. 'CSR is not for the person in the open-toe sandals and a beard, this is a mainstream issue,' he said.
3. Building partnerships Unilever has called for an end to illegal deforestation by 2020. 'We need to learn to work in different ways, no matter how big you are,' he said.
4. Employee engagement according to Weed Employees need to be engaged to feel there is a purpose in what they are doing: 'In the war for talent, people want to know what values your company stands for.'
5. Social media's influence on the corporate brand 'Consumers have the tools to find out more about Unilever through Facebook. People are engaging more with the brand, creating more opportunities to connect.'
WILLIE WALSH 'WE WANTED TO CREATE A BORING NAME TO HELP FOCUS ON THE BRANDS'
Amid much conference comment on the importance of branding, it fell to IAG chief executive Willie Walsh to offer an alternative opinion.
'A brand has no value without a business, and having a great brand is no guarantee of success,' claimed the former British Airways boss.
Walsh spoke about the lack of branding used when constructing the IAG business, which includes British Airways, Iberia, and - subject to regulators - BMI. 'We recognise the value of brands, but IAG is not a brand. We wanted to create a very bland, boring name, to help focus on the brands in the business,' he said.
He also reiterated his frustration at a 'lack of ambition' shown by the UK government, attacking decisions to scrap plans for a third runway at Heathrow and maintain air passenger duty. 'It is hugely damaging to the UK economy. We are making it difficult for people to come here and do business, and allowing our global status to wither,' he said.
MARK BRITTAIN 'CONSUMERS DISTINGUISH ONLY BETWEEN GOOD AND BAD CONTENT'
Syco Entertainment, which manages TV assets such as The X Factor, urged brands to adopt a holistic approach to content marketing, and give consumers an emotional reason to share their content.
Mark Brittain, global head of commercial at Syco, said great ideas have historically been rejected by brands as they are 'hard to quantify in terms of ROI'. He expressed frustration with the UK's regulatory constraints.
According to Brittain, consumers distinguish only between good content and bad content, as opposed to advertising, sponsorship or editorial content.
TV was now simply 'the icing on the cake' when it came to engagement, he added. 'Great content can cross social, global and economic boundaries. Water-cooler moments don't wait for Monday morning any more. Social media is making content more powerful than ever.'
BRIC: BRAZIL, RUSSIA, INDIA AND CHINA
While domestic economic news might be depressing, the BRIC countries are all about vibrancy, boom times and a burgeoning middle class. Dr Linda Yueh, director of the China Growth Centre and a fellow of economics at Oxford University, threw enough stats at delegates to leave them wide-eyed.
At current growth rates, China's economy is doubling every seven years. By comparison, with the UK's growth at less than 1%, it will take 70 years to double.
'This is the first decade in history in which the world's economy is growing faster than the economies of Europe and the US,' said Yueh.
China's strategy, she explained, was to shift away from exports, as the new volatility in foreign markets did not fit into its 'growth by stability mandate'.
While Yueh said China's boom would not end 'for some time', it was Ajayan Gopinathan, founder of Indian brand consultancy The Philosopher's Stone, who told delegates: 'We need your expertise.'
The massive challenge to marketers - creatively and commercially - was to understand India's diversity, he said.
'It is a statistician's dream, but a marketer's nightmare,' he added. 'However, India is an inspiring training ground for your aspiring marketers.'
Q&A HESTON BLUMENTHAL
Heston Blumenthal's Fat Duck restaurant receives 30,000 reservation calls a day. He has created a brand with a true USP, and, despite putting the product first, customer second, has made a success of pushing the boundaries of innovation.
- What is the best way to achieve innovation?
For me the single most important ingredient is naivety. The more you learn about a subject, the more likely it is you will find reasons why it won't work. If you can keep a child-like inquisitiveness and the sense that everything is possible, even if it is not, by going through the processes you will be amazed by the amount of ideas you come up with.
Marketers traditionally put the consumer first, then comes the product, but for you it is the reverse.
- How does that work when you don't know what people want?
I often get asked what the next trends are, which is so infuriating - if you know what they are, they are not the next trends anymore.
The Fat Duck is idiosyncratic. It is me getting really excited and following the path that I wanted to follow. It is quite selfish, but borne out of wanting to provide fun to the diner. If you have something that is a favourite of yours, you want to show it to someone else and you want them to like it.
At (my other restaurant) Dinner we realised a lot of people go out in spite of the food - a totally different concept from the Fat Duck. So that was driven more by an eye for what the customer wants.
- What constitutes good leadership?
It is about motivation by inspiration.
I think it's about giving people the opportunity to grow, to become excited, motivated and stimulated, while working as a team. It's about encouraging inquisitiveness, motivating them by excitement and always trying new things.
- Are you influenced by marketing?
I do see marketing campaigns that I think are cool and clever; they are the ones that keep the brand identity strong. Also, I can really see the power of campaigns that take brands when they are down, then bring them back up. However, I am not an advertiser's dream.