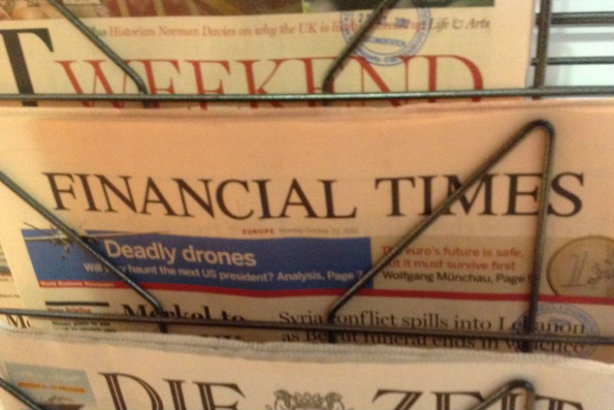 A copy of the letter was sent to PRWeek, Campaign's sister magazine.
Defending Gomez's letter, HPE – which is separate from hardware firm HP – said: "No reporter or news media outlet should be above hearing honest feedback from readers or advertisers."
The dispute relates to a 31 January column by UK-based FT writer Lucy Kellaway – entitled Bonehead aphorisms from Davos's windy summit – in which Kellaway labelled HPE chief executive Meg Whitman's statement in a speech that "you can always go faster than you think you can" as "nonsense".
Kellaway wrote: "Often in business you can't go nearly as fast as you fondly think you can. When you try, you fall on your face."
In a follow-up column published on Sunday evening, Kellaway said she received a letter from Gomez, HPE head of marketing and comms, saying he was "disappointed" by the journalist's comments.
The letter accused Kellaway of "mischaracterising" Whitman's remarks and criticised the "snide" dig at Whitman's predecessor's purchase of software firm Autonomy.
Kellaway said in a new column published online yesterday (7 February) that Gomez's letter "wound up with a threat" when it said: "FT management should consider the impact of unacceptable biases on its relationships with advertisers."
Kellaway wrote in the new column: "It is a very long time since I've been at the receiving end of such aggression." She went on to say: "He was aggressive to me. I'm returning the favour."
The column included an open letter to Gomez, which said: "You say the FT management should think about 'unacceptable biases' and its relationship with its advertisers. My piece was not biased and I fear you misunderstand our business model. It is my editor's steadfast refusal to consider the impact of stories on advertisers that makes us the decent newspaper we are. It is why I want to go on working here. It is why the FT goes on paying me.
"Secondly, you seem to think your boss must be right because she runs a big company and knows about restructuring. In my experience people in big jobs occasionally say things that are a bit off. Then not only is it my job as a columnist to point it out, but yours too, as a member of her top team.
"Three, I see you are in charge of both marketing and communications. The latter role means you have to help your company look good in the eyes of the media and the world. Your email fails to do that.
"And most troubling of all, as head of marketing, you are likely to have an interest in ensuring that the company's advertising message reaches the right audience. Assuming the decision to advertise in the FT was right in the first place, it would seem crazy – and not in shareholders' best interests – to change course based on pique.
"It is, of course, possible that you aren't to blame for any of this, and the order came from on high. I want to think well of Ms Whitman. I adore eBay, which she made great. She may have said something daft at Davos – and, as I pointed out in my column, she was in very good company there – so I don't want to believe she told you to write to me. Please tell me it isn't so."
When contacted by PRWeek, HPE sent a copy of the letter originally sent by Gomez to Kellaway, which said: "I was disappointed to see you mischaracterise Meg's remarks to fit the narrative of your piece.
"Meg's comment about companies 'going faster' was about the reality of IT transformations and change management at large, global companies. I don't understand how you can suggest that what she said was 'nonsense'. As the leader of one of the world's largest IT companies and an organisation that recently underwent a major separation, Meg has a well-founded perspective on this matter. And have you noticed what's going on in business today?
"Furthermore, Autonomy had nothing to do with the point Meg was making. Given the context of her remark in Davos, it was a remarkable stretch to connect what she said to the acquisition of Autonomy. Clearly, you were looking for a snide way to fit Meg and HPE into your piece.
"Obviously, you and the FT are free to write about the topics you select. I've read your bio and respect your right to 'poke fun' at management. But you still have an obligation to get it right. And FT management should consider the impact of unacceptable biases on its relationships with advertisers."
A spokesman for HPE said: "As you can see from the actual email, Mr Gomez very respectfully expressed his concerns about what he felt was a serious mischaracterisation of Ms Whitman's remarks. Mr Gomez's email was sent to Ms Kellaway and the FT's business management team.
"No reporter or news media outlet should be above hearing honest feedback from readers or advertisers."
Gomez joined Hewlett Packard in 2012 from eBay, where he was senior vice president for corporate comms. Hewlett Packard split into two companies – HP Inc and HPE – late last year, with Gomez joining the latter.