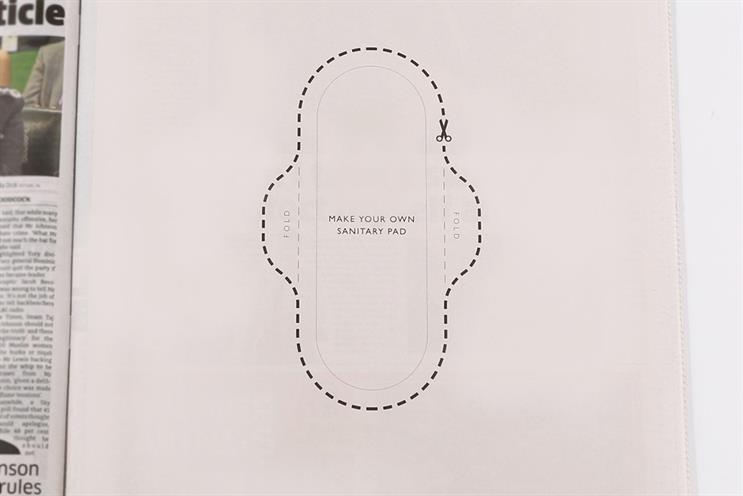 One day in August, readers of the Metro would have found an ad as arresting as a news headline – a cutout in the shape of a sanitary pad, inviting people to make their own. The accompanying text revealed the shocking statistic that one in ten girls in the UK can't afford sanitary products, so must resort to using loo roll, socks or even newspaper.
Created by Adam & Eve/DDB, the ad promoted Hey Girls, a social enterprise brand that tackles period poverty by donating a pack of sanitary pads to girls in need for every pack that it sells (A&E/DDB, the Metro and media agency the7stars all worked pro bono on the campaign). After launching online in January, Hey Girls is now on sale in Waitrose and Asda, with plans to expand into more UK stores.
The response to the campaign has been "huge," says Hey Girls founder Celia Hodson. This is partly due to the fact that in recent months period poverty has come into the spotlight – even Meghan Markle has joined the effort by backing a charity in India that provides schoolgirls with sanitary products. The attention paid to this problem also reflects "a whole awakening to the feminist movement," Hodson says.
Amid this heightened awareness of women's issues, and as more marketers venture into this space too, Hodson says she wants Hey Girls to be a brand that puts down the megaphone and addresses a social problem in a conversational, approachable tone.
"I'm not a campaigning person who takes to the street with my placard," Hodson says. "It's phenomenal if you are, but that isn't me and it's not the way I created Hey Girls. I wanted to create [an ad] that was striking and stopped people, but raised the question without being aggressive."
Hodson has a long career history in the social enterprise sector, from working at the trade body Social Enterprise UK to launching startups that supported businesses with a social or environmental mission. She was on the verge of retirement when her two daughters encouraged her to set up Hey Girls to help alleviate period poverty. Hodson brought up her daughters and a son on benefits as a single parent, and as a result their family is "very socially-minded" with a passion for ending poverty, she says.
"Things haven't changed for low-income families," she says. "[Poverty] has a knock-on effect to all members of the family, their aspirations, self-esteem and where they see themselves in the world."
Before Hey Girls, Hodson had never created a brand or product herself.
"I went into it quite naively, not thinking of all the things I needed to know. But I'm a big believer in the power of a network," she says. "We've built the whole thing on using other people's expertise."
Hodson and her daughters posted questions on LinkedIn, consulted friends, and held roundtables with young women to talk about menstrual health. They would fill tables with sanitary pads and ask girls for their thoughts on periods. The resulting product is one that those girls said they wanted – comfortable, no-leak, chlorine and bleach free, environmentally-friendly pads.
"We knew that to make any kind of impact, we couldn't just sell a few. We had to set it up to be scalable," Hodson says. "It grew quickly into a big idea, so we just went for it."
Hey Girls launched with a fanfare, getting press coverage in publications such as Grazia, Elle and the Evening Standard. Online sales quickly followed, and when the team pitched their product to Asda and Waitrose, buyers "loved the idea," Hodson recalls. Hey Girls went on sale in both supermarkets in August and is in talks with other retailers.
Hodson partly attributes the brand's early success to its ability to listen and take feedback from customers. For example, some schools said Hey Girls' colourful boxes were too bulky and eye-catching for students' bags, so the brand created cartons of loose pads that are individually wrapped and can easily be tucked away. The idea is to get rid of any barriers that would keep girls from asking for the products they need.
"It's important that [Hey Girls] be grounded in real people, conversations and actions," Hodson says.
Beyond donating and selling pads, Hey Girls is trying to break down taboos surrounding periods. They provide schools with booklets about menstrual health, post facts and myth busters on their website and social media, and hold roundtables with teens and women of all ages. Hey Girls even set up a "Hey Boys" page to answer boys' questions about periods.
"We're trying to get a conversation going about menstruation but not in an aggressive, campaigning way," Hodson says. "We use the type of language that people use when speaking to each other every day. It's about being comfortable."
Now when Hodson meets people and they find out what she does, "everybody wants to tell you about their periods," she says. And she hears a lot of stories from girls who, until recently, thought they were alone in their struggle with period poverty.
"Once you start talking, it's like taking a cork out of the bottle," she says.
Tips for starting your own social enterprise brand
Hodson believes there is a growing market for social enterprise businesses. She shared her advice for getting started.
Do your research
Find out first if there is a market for the business you want to create. "You'll have to put a huge amount of effort and probably your own money into it. I invested my savings into Hey Girls," Hodson says.
Start small
"A lot of people create business plans that are works of art and polish them for years before taking action," she says. "Have a little go, see if it's going to take, and then move up."
Be flexible
Hey Girls responds to customer feedback by being "small and agile," Hodson says. Due to people's requests they are starting to expand from pads and create environmentally-friendly tampons.
Be true to yourself and your values
Beyond tackling period poverty, Hey Girls is environmentally conscious and also supports other social enterprise businesses, from their deliveries company to website design agency.
Hey Girls may be on the shelf of big supermarkets now, but "we're not trying to be something we're not," Hodson says. She recalls visiting a Waitrose for the first time after their pads went on sale.
"There we were next to Tampax, alongside the big boys, holding our own. It felt huge," she says.