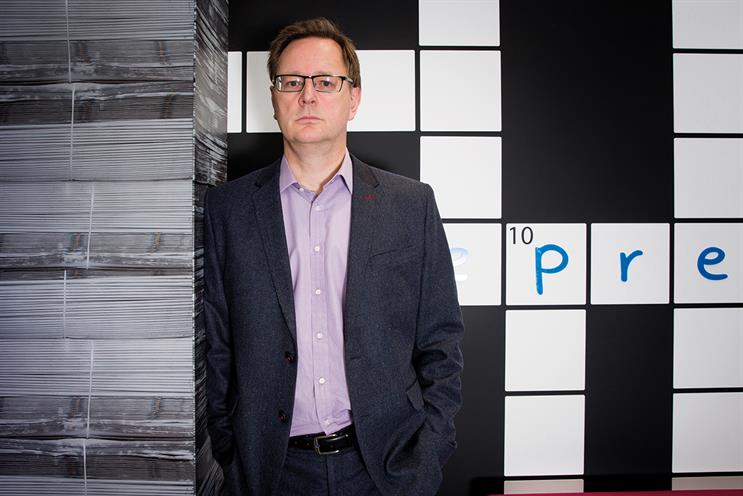 Johnston Press has a grand London address given its debt problems. But Cavendish Square, overlooking the Oxford Circus home of John Lewis, fits with Ashley Highfield's aspirations to take the regional newspaper group upmarket.
The publisher of The Yorkshire Post and The Scotsman has 2.5 million ABC1 readers. Now Highfield, the chief executive, will increase that to nearly three million with his acquisition of i from ESI Media when the £24 million deal completes on 10 April.
It means, Highfield says, that he can "hone this quite targeted, upscale-oriented" audience for advertisers: "It's a quality, volume package."
Buying i, which sells 270,000 copies a day, also gives Johnston national scale and should bring in new advertisers. Only seven out of i's 30 key advertisers spend at scale across Johnston titles.
Highfield talks about his company being "the new kid on the block" as he woos national media buyers. He won't increase i's coverprice this year as part of his drive for ad revenue: "Two numbers keep sticking in my head. We have got 9 per cent of daily news-paper circulation and 3 per cent share of national advertising revenues in print."
Highfield, who made his name as the BBC digital supremo who launched iPlayer, also sees online opportunity because i has not had a website since it was founded in 2010 as a spin-off of The Independent.
i made a £5.7 million profit last year thanks to its lean business model and 40p coverprice. At the same time, The Independent, which supplied much of the editorial copy for i, kept losing money and went online-only at Easter.
Highfield thinks the industry can "learn" from i – "a 21st-century newspaper" for the internet age – because it is "a concise quality read". His research found that readers feel short-changed by broadsheets they don't have time to read and there is no "sense of completion" on the web: "People love the i. There's no buyer remorse. People finish it and they feel sated."
Shareholders backed the deal because it adds scale at a time when revenues keep falling and digital fails to offset print decline – and Highfield can foresee further acquisitions. The editor of i, Oliver Duff, will lead a 50-strong editorial team – many of whom are transferring from ESI, although up to 100 Independent journalists face redundancy.
Highfield, a slim, earnest figure, has faced criticism. The National Union of Journalists was "shocked" that he bought i when he could have "invested internally" after years of cuts. Analysts at Numis Securities "question the logic of buying i rather than paying down debt", which is £179 million – four times Johnston's stock market value. "I had enough money sitting in the bank to buy i," Highfield counters, saying the "return on i is substantially more" than paying off loans.
Debt remains a "millstone", although Highfield has halved it since taking over in 2011. That is why he is unapologetic about making redundancies and closing underperforming titles: "If I'd kept the cost base, we'd have gone bust by now. We'd have gone bust 20 times over." Johnston staff in Northern Ireland are not convinced, voting last month to strike over pay and conditions.
Highfield dismisses the suggestion that quality is suffering because of cuts to journalists. "If you ask them 'Do they produce better content than they've ever done?', I'd hope they'd say yes," he says, arguing that social media, reader-generated content and real-time analytics mean the editorial product has "probably never been of a higher quality". But he insists: "The economics do not allow you to employ the same number of people as 20 or 30 years ago."
Highfield knew Johnston was in a mess when he joined but admits: "It's a tougher challenge than I had anticipated." When Campaign mentions the NUJ, which has attacked his £1.65 million pay, he winces. But it may have made him more determined: "I am messianically driven to get this company to a position where it is standing on its own feet for the long term."
He can shrug off one potential problem. Trinity Mirror's The New Day, which launched in February with a similar low-cost, "template" model, has had poor sales. Highfield says the launch was "brave and bold". How long does he give it? "No comment," he grins.
Highfield will visit Trinity Mirror's Watford printing plant on Sunday to see i roll off the presses under his ownership for the first time but wishes rivals would collaborate more – for example, by creating "a single web design for all regional papers".
Online is facing a crisis of trust with ad-blocking, fraud and profitability issues, and Highfield thinks that can play into the hands of traditional news providers that offer a trusted, engaged environment and local knowledge for small-business advertisers.
He concludes: "I think the pendulum will swing back to quality. Advertisers want quality audiences in print and online, and that is what we can deliver. Our strategy of moving ever-more upmarket has got to be the right one."