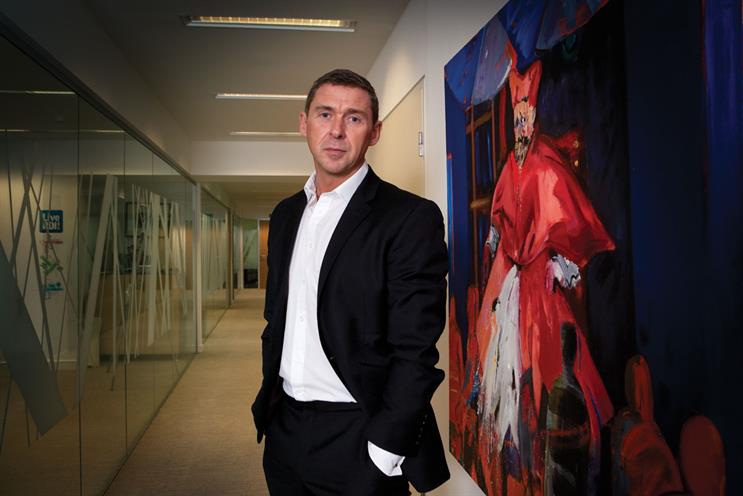 It's hard to move in London without being accosted by a data bore. The topic is so hot that film-makers are expected to swing into production on Big Data: The Movie. Amid this buzz, Tim Hipperson has arrived as the new chief executive of ZenithOptimedia. He joins from G2 Joshua, the WPP below-the-line agency, and boasts a long record – via Tequila, MRM, DraftFCB and RMG Connect – of working at, and leading, data-driven direct marketing businesses.
The logic for the appointment appears impeccable. Media agencies, having invested in performance-based platforms, are now swimming in data and are looking to knit this together with their core planning and buying offer. Yet the path between ad agencies, even the below-the-line variety, and their media equivalents is rarely trodden, so it could be a challenge for Hipperson to adapt to the fundamentals of the media game.
He's not unduly concerned, however. Sitting in his office just three days into the job, Hipperson says: "The industry is going through an enormous amount of change – I have a clear perception of where the opportunity lies going forward and I think the business of ZenithOptimedia with a proposition like 'Live ROI', matched with my history in data and where the communications business is going, creates a fantastic opportunity to do something."
'I believe in a simple principle: that great people attract great clients and in partnership produce great work'
Ah, that "Live ROI" positioning. While rival media agencies were wetting themselves over comms planning a decade ago, the newly merged ZenithOptimedia, under the chief executive Antony Young, unfurled its "ROI Agency" banner. It invested in econometrics (Ninah), performance marketing (Performics) and rolled its successful direct response arm, Zed, into the main offer. This should provide ballast for the "real-time" plans that Hipperson has for the business.
He arrived after a lengthy recruitment process that kicked off in the middle of 2012. The long-serving chief executive Gerry Boyle has stepped up to UK chairman. Boyle made it clear that Hipperson has been hired for his "innovation, integration, data and digital experience", but observers are concerned that ZenithOptimedia will struggle to replace lost planning and management talent.
Boyle will be less involved and the agency also waved goodbye to Stephen Farquhar, the talented managing director of its Zenith division, when he migrated to Zenith in China last year. Farquhar, a planner of some repute, seemed to lend imagination and gravitas to the agency's offer. He's yet to be replaced.
ZenithOptimedia has experienced a poor run of new business recently – it lost B&Q and Associated British Foods late last year. And over the corridor from Hipperson's office, a team are in a meeting room feverishly putting the finishing touches to a pitch for the agency's British Airways account, currently up for review.
Does all this activity concern Hipperson, who accepted the job back in November? "Absolutely not. Most businesses in this economy are struggling, there's change in the comms world, we have an opportunity and these are the things you face day-to-day."
He says his task is to have a "clear vision and direction about going forward in the future. It's not just about operating the business now."
Hipperson was appointed because he has built a reputation as a change-agent, challenging and restructuring businesses to make them more successful. His CV indicates that he stays two to three years at a business before moving on to the next opportunity. But what will ZenithOptimedia staff see from him? "I'm very much a strong believer in a simple principle: that great people attract great clients and working in partnership produce great work. I'm very much a collaborator, I believe in the team ethic – people coming together and unifying over a common goal and sticking to that vision over a period of time."
It's tempting to view Hipperson's arrival as part of a wider trend of media agencies realising they need a broader, more forward-thinking skillset. That they're not, in Hipperson's words, "just a media planning and buying business". Mark Creighton's promotion to chief executive at Mindshare seemed part of this progression and Hipperson's emphasis on emerging channels bears comparison.
However, he also talks up the potential of the content division Newcast and the opportunity for ZenithOptimedia to develop a creative offering that allows it to deliver targeted content to people at the right time based on the data analytics skills available to the agency. Its work for the likes of O2 in the content space provides a promising platform on which to build.
Hipperson is well aware of the excitement surrounding all things data but he boils the hype down to a matter-of-fact solution that bodes well for his tenure at ZenithOptimedia: "The challenge is to make big data into small data and make it usable."


The lowdown
Age: 43
Family: Debbie and my three daughters (Lottie, Freya and Holly)
Lives: Shropshire; Wandsworth, London
Favourite media: The Field, Later With Jools Holland
Interests: Arsenal FC and their quest for a cup
Motto: Be honest
Follow @Darbs73