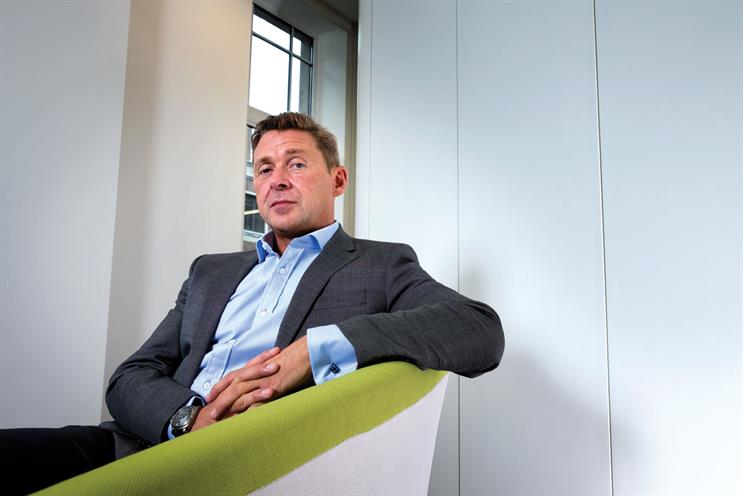 Tim Hipperson gets straight to the point. Describing his new role as the interim chief executive at Weve, the mobile marketing joint venture between O2, EE and Vodafone, he says: "The challenge is to be more singular in focus. If I were to challenge Weve, it maybe tried to do too many things too quickly."
Weve hired Hipperson in July to replace David Sear, who left the company after just 18 months at the helm to much surprise.
In Hipperson's view, Weve is a potentially powerful business but needs to find a new direction. "There's an opportunity to bring someone in with a clear set of eyes, who is going to give you a complete transparent review of the business, with an objective point of view to move forward," he explains.
To be perfectly clear, the decision to depart ZenithOptimedia was mine and not related to loss of business
Weve has a compelling offering – permission from 23million people with mobile phone contracts to target them with advertising. It gives advertisers the chance to send text and multimedia message ads directly to these phones. Hundreds of brands have taken up the opportunity, and Weve generated revenues of £13 million last year – a figure that is set to rise to £16.5 million this year.
In June, it also launched a mobile display advertising proposition, allowing brands such as Tesco and Lloyds Bank to target users through apps and the mobile web.
Crucially, ever since Weve launched at Advertising Week Europe in 2013, it has had big plans to create a mobile payment wallet and a system for storing loyalty schemes on mobiles called Pouch. It even ran a test of the latter with the cafe chain Eat earlier this year. Both plans have now been axed.
Hipperson presents another of Weve's "challenges": "From a marketer perspective, I would challenge why you would go to market with a brand name and a product offering, rather than a brand name and a proposition."
This confusion is something he intends to sort out. "Weve went to market with multiple product offerings," he points out. "It needs reassessing. My role is to reassess and perhaps bring clarity about its proposition and the direction of the business."
So the search is on to find a new direction – though Hipperson stresses that the SMS, MMS and display areas of the business are growing strongly. The three mobile operators poured £38 million into setting up the venture with the aim of taking on Google, Facebook and Apple. It could be a long time before they get their money back unless a new focus is found.
Hipperson believes part of the answer lies in its work around mobile identification and verification, which can challenge Facebook's new Atlas technology and Google Display Network.
Mobile identification is, he says, a huge new area that could change the game for digital advertising. Facebook described Atlas as a wayto move from cookie-based marketing – essential, since cookies don't really work on mobiles – to "people-based marketing". The system follows people across all their digital journeys after they have signed into their Facebook accounts, so it can serve ads based on their online behaviour and analyse their "purchase journeys".
Weve's version is still in development and details are sketchy. It is likely to require a user sign-in and offer advertisers insights into people's mobile activities to help them place ads. Weve is looking at possible applications of the technology.
Hipperson says he will announce "within weeks" the hiring of a big-name chief technology officer from a well-known company, who will bring the project to fruition. Launch could be in early 2015, though it would depend on backing and investment from the mobile operators.
"The new chief technology officer is aware of the potential direction. The applications and the overall funding and the structure of the business – that is all to be discussed," Hipperson says. "But the outline direction, scaling the media business through new innovations, the core lines of development and building a platform-based business in an ID-based product sector – he is very aware of those."
The appointment will be his second after that of DMG Media's Richard Shamsi as the chief financial and operating officer.
Hipperson is well-placed to lead Weve's charge. He has a long history in the data and technology areas, having led RMG Connect until it merged with JWT in 2009 and the WPP direct shop G2 Joshua until 2012.
He was drafted in to run ZenithOptimedia in April 2013 but left that November as the agency lost the key L'Oréal and British Airways accounts. On that, Hipperson says: "The measure of a man's strength is to understand that there are some situations when you can't make a difference. And, to be perfectly clear on that, the decision to depart ZenithOptimedia was entirely mine, and was not related to loss of business."
He describes Weve as a start-up, though one might think that it is far from those in Silicon Valley, which tend to take a single idea and seek funding to make it work. Weve seems to have done things in reverse – it received the funding, launched and then began experimenting.
But if Hipperson can weave his magic and make a success of mobile identification and verification, it could give the UK's mobile operators a shot at taking on the tech giants in this new battleground for mobile advertising.