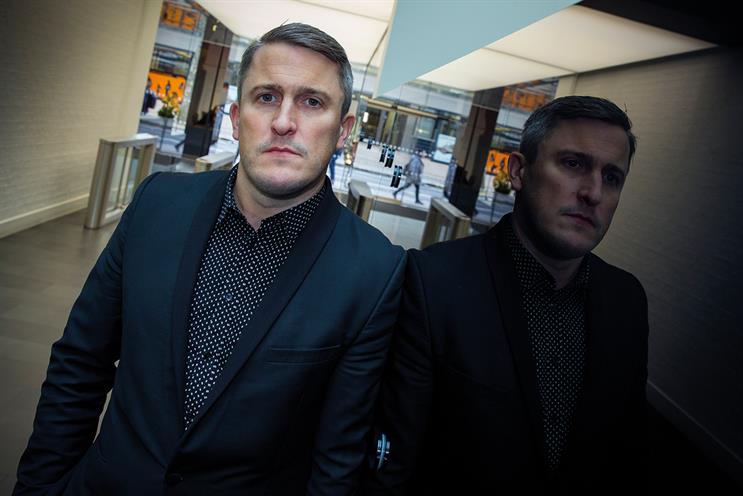 It is rare for a creative agency boss to cross over to run a media business. But Rick Hirst, the chief executive of Mcgarrybowen, is about to enter uncharted territory when he takes the reins at Mcgarrybowen's sister agency Carat.
The move signals a significant shift in the industry. As Hirst puts it, five years ago he would have "laughed" if anyone had said media agencies could produce creative work. But things have changed, he says, pointing to work such as PHD's "The Lego Movie ad break" for Warner Bros.
"We used to sit in rooms doing our very best trying to make sure the media agency got absolutely no say in the matter, and that's not the case now," Hirst says in his distinctive Lancastrian tone, sporting a pair of brogues with red laces.
But as creative shops move to set up media in-house and clients ask for their creative and media agencies to sit under the same roof, change is clearly taking place.
In a world filled with data, media agencies are now on the front foot and creative shops are in "danger of being left behind", Hirst insists.
He explains: "Technology is driving change in our business at a faster pace than ever before and the people in the driving seat are actually the media businesses.
"Programmatic offerings allow agile media and amazing insight and data to fuel what you say, not just where to place it. We've got the opportunity to be quicker and be nimble in how we work."
Hirst thinks technology is an important area where the relationship between media and creative shops falls short. The tension between the two is no secret, with both sides claiming the other does not understand what they do.
"I think they're a little bit scared of it," Hirst says of those who say creatives and media people don't get along. "When you talk to creatives about big data, programmatic, data flows, real time – a lot of them see that as: 'This means I have to make 500 versions of the same ad.' We need to find a way to present the knowledge in media businesses better to help the creative process."
With stints at Engine, Bartle Bogle Hegarty and Fallon, Hirst's creative background should help Carat work better with its ad agency partners. On the day that news broke about his new role, he received messages from past colleagues who say they were "looking forward to having someone in the room who gets what they do and wants to work with them to get to better answers".
Hirst adds: "We're not going to build a full-service agency that's going to fight with the creative agencies but we're going to do what we do best. I do get that side of the fence."
His lack of media experience isn't a barrier, he says: "Historically, creative agencies have been better at how they build partnerships with clients and becoming trusted business advisors. There is loads that media businesses can do to up their skills."
Dominic Proctor, the Group M global president who has also worked on the creative side, thinks Hirst's confidence is justified. "It is lazy thinking to assume that you need to be a technical expert to run a business," Proctor says. "I have always been amazed that more managers have not moved between different types of agency as there is so much overlap."
Proctor believes the challenges Hirst will face are similar to those of any new agency chief: "You need to be good at earning the trust of your clients by anticipating what will give them an advantage, design your agency accordingly, pick the people to get it done and manage them with a light touch. Then keep nimble, keep listening and keep your fingers crossed."
Building trust isn't the only task at hand. With the loss of the £95 million Asda business last month, as well as the British Gas and European Kellogg reviews, Carat hasn't had the best start to the year – even though the agency scored well in Campaign's School Reports in March.
Hirst is adamant that Carat remains a "brilliant media business" and the team will "dust ourselves off" after the loss of Asda. "We have retained every single pitch we have repitched for in the last three years," he says, noting that there are lots of statutory reviews of fixed contracts in media. "We have enough clients to be always in review somewhere. But we're confident about keeping business."
Debbie Klein, the chief executive, Europe and Asia, of Engine and a former colleague, says Hirst's ability to learn fast will help him get to grips with the media business. She describes him as "driven, purposeful and relentless, yet a man of the people who wears his heart on his sleeve".
Remco Graham, the Now executive creative director and partner who worked with Hirst at Mcgarrybowen, adds: "I found Rick to be a very driven character who doesn't suffer fools gladly."
Hirst certainly faces a steep learning curve at Carat but his confident – almost cocky – nature is sure to help him along.