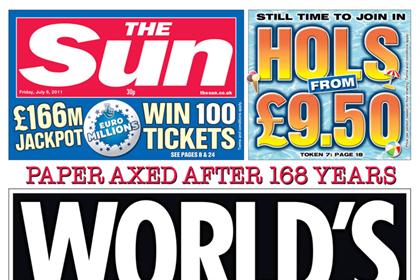 Aimed squarely at the then all-powerful Daily Mirror, The Sun perfectly reflected a business philosophy that had served Murdoch well since he set out in 1953 - find a formula that will pull in advertising revenue on the back of a dramatic circulation rise.
Under IPC, The Sun's strategy of targeting young, upwardly mobile professionals had proved a dismal failure. Circulation was around 600,000 and the paper was losing £3 million a year.
But under Murdoch's control, The Sun ditched its Labour-leaning political stance in favour of much more titillating fare, which could best be summed up as "sex, sport and sensation".
The first new-style front boasted an "exclusive" about a racehorse trainer who admitted doping his horses. Below it was a story about the 21-year-old Prince Charles "sowing his wild oats" with the Duke of Westminster's daughter.
Within a year the "SoarAway Sun" saw its daily sales rise to two million, providing advertisers with a powerful new mass medium in the process.
Murdoch's success involved an approach that was significantly different to Roy Thomson, the press baron whose throne he usurped. While Thomson primarily regarded editorial as the space between the ads, Murdoch, a one-time journalist, saw editorial as the key to commercial success.
He later admitted that all he had done was to replicate the racy style of the News of the World, which had a circulation of around six million and which he'd bought earlier that year, to a daily. He claimed that other daily papers, heavily influenced by the Daily Mirror's left-wing campaigning, wrongly assumed that Britons wanted politics during the week and sex only on Sundays.
Naturally, The Sun quickly ran up against old-fashioned British prudery. The arrival of the legendary bare-breasted Page Three girls provoked a public library in West Yorkshire to ban the paper because of its "excessive sexual content".
For his part, Murdoch just revelled in the publicity. By 1978, The Sun had replaced the Mirror as the UK's most widely read daily. Its current estimated readership is 7.7 million - more than double that of its long-time rival.
THINGS YOU NEED TO KNOW
- The tradition of the Page Three girl began with the new-look Sun's first issue. Its third page featured a glamour shot of Ulla Lindstrom, the Penthouse Pet of the Month. The first topless Page Three girl, Stephanie Rahn, appeared a year later.
- Murdoch was famous for knowing everything about day-to-day newspaper production. Told by printers that The Sun couldn't go tabloid because its presses couldn't be adjusted, Murdoch climbed on to a machine, opened a cabinet and pulled out a bar that, when fitted properly, could convert them.
- The Sun recorded a pre-tax profit of £40.2 million in the year to 27 June 2010, bucking the sales trend.