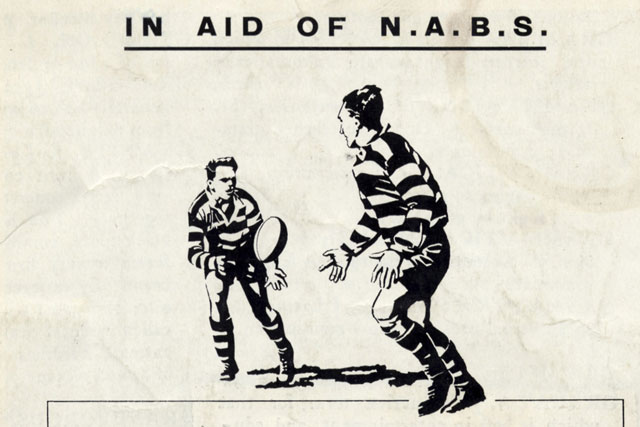 And, of course, in time-honoured rugby tradition, the competition was born out of a very beery evening. This particular one took place in the bar at Esher RFC in the early 60s.
The original 15-a-side tournament had begun in 1959 when Tim Clifton, then a JWT trainee, attracted support from the London Press Exchange (later Leo Burnett), SH Benson and Colman Prentice & Varley. Eight other agencies quickly joined in to compete for the TV Times Trophy.
Very soon, the event became so popular that a drunken night in Surrey led to the 15s competition being scrapped and a 7s tournament established in 1962. Since then, it has raised many thousands of pounds for Nabs.
The first tournament at Esher, held on 25 March 1962 and in which 16 teams took part, was "total chaos", Clifton remembers. "We hadn't got a clue how to run it and the Esher officials looked on in amusement. There was no match fee but a raffle of sorts and, with a generous donation from the Esher bar profits, I recall about £500 was donated."
Today, the Rugby 7s make rather more money than that. Between 2007 and 2010, they swelled Nabs' coffers by more than £93,000.
Over the years, the raffle prizes - often put together by agencies from their clients' products - grew ever more inventive. One was called the Before, During and After prize, comprising a year's subscription to Playboy, a gross of condoms and a gallon of Dettol.
With the Esher pitches set to be turned into gravel pits, the tournament was switched to Richmond RFC, where it has remained ever since.
Unlike today, Nabs didn't have the resources to help on the day. As a result, volunteers from the Royal National Lifeboat Institution offered their services, resulting in a healthy donation to the RNLI from the event.
"Our efforts from the 60s and 70s seem paltry compared with the effort that goes into ensuring a highly profitable event expected of the modern tournament," Clifton says.
Things you need to know
- Around 30 agency teams are expected to take part in Sunday's event at the Richmond Athletic Ground.
- Last year's tournament resulted in triumphs for DLKW Lowe, which won the bowl, and Mindshare, which took the plate.
- In 2000, Nabs fell foul of the Advertising Standards Authority for a trade press ad promoting one of its women's Rugby 7s tournaments. Created by Saatchi & Saatchi, the ad quoted "Miss Annabel Broom", an advertising PA, as saying: "I don't care if I live or die, all I want to do is kill and injure as many of you as possible. All you people out there can kiss my ass and die." The ASA upheld complaints.